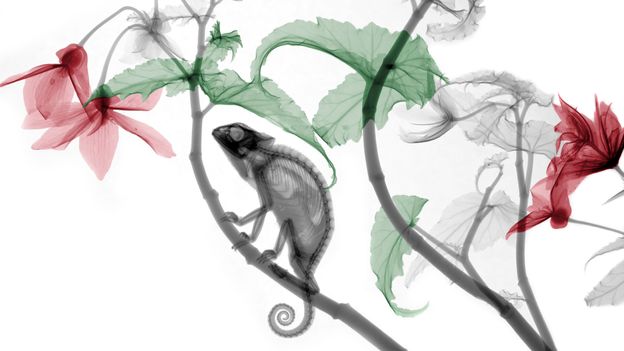 Arie van 't Riet has a unique view of life on earth.
As a medical physicist based in the Netherlands, van 't Riet teaches radiographers about radiation physics and safety. As part of his teaching program, van 't Riet searched for an example to demonstrate and visualise the influence of x-ray energy on the contrast of an x-ray image. The higher the x-ray energy, the lower the contrast.
"I arrived at flowers. After some years I started to edit and partly colour these x-ray images. And I added animals," he says.
van 't Riet now produces a series of x-ray artworks demonstrating the inner beauty of life.
Each image is produced at his home, where he has an x-ray machine under licence. All the animals imaged were already dead. "It's not justified to expose living animals to the risk of x-rays," he says.
His work has now given him a new perspective on nature.
"The x-rays demonstrate the complexity and the inner refinement of natural objects. See the pelvic structure of the frog."
On the other hand, the x-ray images also demonstrate the similarities between life forms, he says.
"See the trachea in the python and the lizard, it is the same construction as
mine. The same holds for the bony structures like knee, elbow, hip, femur, fibula, ulna, radius etc. All the same. We judge the bird by its colour. But, they often are the same in an x-ray view, looking with x-ray eyes."
 van 't Riet's choice of subject is often determined by their availability.
"Usually, the availability of an animal is decisive for the image. It starts with a traffic victim, or a reptile which died, or a fish from the market, or some prepared insects from the shop, or an animal caught by the cat," he says.
"Next, I search for plants and flowers belonging to the habitat of the respective animal. From the animals and flowers and plants, I build my complete natural scene."
 Because van 't Riet cannot see the results of his work until the x-rays have been developed, the results came come as a surprise.
"Sometimes the traffic victim is found to be to heavily damaged internally. Sometimes, the composition is disappointing. But it means a lot to me if finally the realised x-ray underlines how amazing is nature."