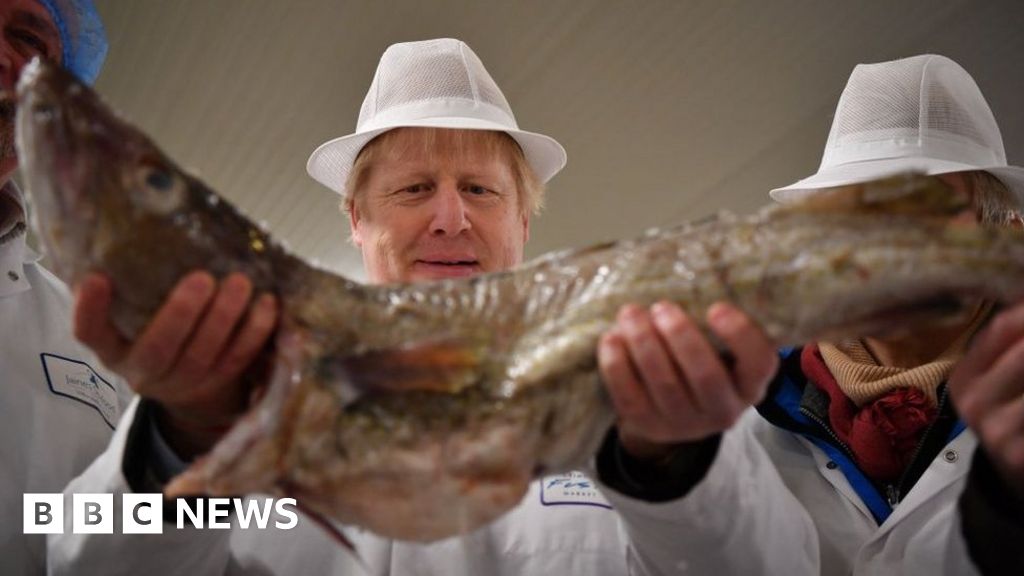 Publishedduration1 day ago
image copyrightGetty Images
Today fishing contributes just a 10th of 1% to Britain's economy – less than Harrods, London's best-known department store – and yet it's at the centre of negotiations over the UK's post-Brexit deal with the EU. Lucy Ash went to Grimsby to find out whether its fishermen think Brexit can bring about a renaissance of their industry.
Kurt Christensen, a dapper dresser in his 60s, is one of the best-known men in town. Several people stop him in the street for a chat. When we dive inside a hotel for a coffee, and to shelter from the biting wind, the barman rushes over to greet him.
You might think, from his flat Lincolnshire vowels, that he's a Grimbarian born and bred. Yet as his name suggests, Kurt was born in Denmark. He came to England as the three-year-old son of a trawler skipper in search of richer fishing grounds.
Kurt's mother didn't want him to follow in his father's footsteps because the work was so dangerous. But, aged 15, he got a job on the dock during his summer holidays and says he took to the sea "like a duck to water".
On his first voyage the weather was atrocious and waves towered over the boat, but the crew netted a good catch when few other boats were out, and Kurt got a handsome share of the profits.
"I'd never seen that much money in one place," he laughs.
"So I pulled off five £1 notes, gave it to my mother and I said 'Here you are Mum, get yourself a nice dress!'
"It was halcyon times. I mean, it was brilliant. When fishing's good, it is astonishing. We could live like rock stars."
image captionKurt Christensen: Suddenly, in 1973, it was equal access for everyone
Grimsby's population soared from 1,000 to 63,000 in the 19th Century, after the port was connected to the rest of the country by rail, and it went on rising. By the middle of the 20th Century, the former backwater on the Humber estuary was the biggest fishing port in the world.
Fishermen who came ashore flush with cash were known as "three-day millionaires". They would keep taxis on the meter outside pubs all day while they drank and caroused until their next voyage, a few days later.
These hedonistic spending sprees were partly driven by superstition. Many fishermen believed that if they went back to sea with money left in their pockets, their boat would sink or they would return with empty nets.
They shared fishing grounds with the crews of other northern European countries as they had done for centuries. Back then, it seemed as though the fish would never run out and everyone could catch what they liked.
When the UK joined the European Economic Community in 1973, Kurt – by then a successful boat owner and fish merchant – was happy that he could apply for grants to build new ships, buy safety gear or more fuel-efficient engines. But then he started having misgivings.
"The waters we had could sustain the British fleet," says Kurt. "But then all of a sudden it wasn't just the UK fleet. It was equal access for everyone."
Grimsby fishermen found themselves sharing the sea not only with fishermen from northern Europe, but with those from France, Spain and further afield. In 1983, to preserve fish stocks, a quota system was introduced.
For many species, it gave European boats – by law – a greater entitlement to fish in British waters than the British themselves. Prime Minister Edward Heath, who negotiated the UK's entry into the European Economic Community, is widely blamed for this – and for the fact that half a century later, EU fleets land about eight times as much fish (by value) from UK waters as British fishermen catch in EU waters.
Within a few years of the introduction of quotas, fishermen like Kurt had reached their annual limit by September and had nothing left to fish for. Some went on the dole, others had to look for new jobs, much to Kurt's disgust.
"You know, you'd got guys in a cake factory – perfectly brilliant skippers sticking cherries on cakes," he says. "Where does your pride go with that? It's wrong."
Today, the warren of little streets behind the docks, known as the Kasbah, is eerily quiet. It is overlooked by an eye-catching feat of Victorian engineering, a red brick structure known as Grimsby Dock Tower that once housed the hydraulics that operated dock machinery. Modelled on the Torre del Mangia in Siena, Tuscany, it's Grimsby's equivalent of the Eiffel Tower, adorning tea towels, calendars and coffee mugs.
Many of the old warehouses are still standing, but several are boarded up. Another abandoned building was once the world's largest ice factory. It churned out ice blocks by the tonne, which were then crushed up and sent to the dock. Now, the roof's falling in and it's surrounded by a metal fence – a symbol of Grimsby's fall from grandeur.
Nearby Freeman Street, once a haunt of the three-day millionaires, has seen better days too. Many businesses are shuttered up, leaving a dreary residue of penny arcades, betting shops and charity outlets.
At the back of the covered food market is the office of the local MP, Lia Nici, the daughter of an Italian jazz drummer and a Lincolnshire policewoman. Nici stood in last year's general election, and became the first Conservative to win the Grimsby seat in almost a century.
She was a part of the big story of that election: across the English North and Midlands, seats which had been Labour strongholds for decades fell, turning Britain's so-called "Red Wall" blue. These were also the areas where support for leaving the European Union was strongest in the referendum of 2016.
Nici herself actually voted to stay inside the European Union, but now she is reaching out to the 70% of her constituents who voted the other way.
image captionLia Nici: We want a modern fishing industry
"We have some of the richest fishing grounds in Europe, and we don't have any control," she says. "And that is the reason why people voted for Brexit and voted for Boris Johnson."
Although the UK is now out of the European Union, it remains in its Common Fisheries Policy until the end of this year. Lia Nici insists that, after that, better times lie ahead.
"Come 1 January, we want to be out there. We are ready to go. What we want is a modern trawling industry, so that young people can come into it."
As if to prove this tiny industry's talismanic importance, Boris Johnson donned a white hat, white coat and white rubber boots when he came to Grimsby fishing for votes during the general election campaign. At the fish auction in the docks he posed for selfies clutching a haddock and tweeted about "taking back control" of the seas.
Yet there's a precedent for taking back control – and it's relevant to Grimsby's decline. Because even before the UK joined what became the EU, its own fishermen were ejected from the fisheries of another country. The so called "cod wars", a series of fishing disputes from the 1950s to 70s, resulted in a 200-mile exclusion zone around Iceland. Ultimately, that rendered Grimsby's deep-sea operators unviable, and they made up the majority of the fleet. This was before European quotas came into existence and dealt a blow to the owners of boats suited to the shallow waters of the North Sea.
Today there are only a handful of local fishermen who still land their catch in Grimsby. Down at the dock one evening I meet Darren Kenyon, who started fishing when he was 13 years old.
"A lot of people got fed up and have packed up," he tells me, rolling a soggy cigarette as we stand under a drizzling sky and his crew unloads 30 buckets of crabs and several trays of lobsters, worth a total of £2,000.
Darren used to work on the cod fishery but has taken to catching shellfish because they aren't subject to EU quotas.
Once the boat is unloaded, Darren takes me into his storehouse to show off his prize lobsters kept in huge shallow
tanks. Small inshore operations like his are best at spreading the money around, he says. The crabs he's landed tonight will be boiled up tomorrow at his own dockside workshop, and sold on by stallholders – creating local jobs at each turn. "If I can fish five days a week," he tells me, "I just about do all right."
Other fishermen have found different ways to adapt to changing times.
Kurt takes me on to the beach at Cleethorpes, just down the road from Grimsby, where I spot the gleaming white blades of wind turbines a few miles offshore. There are plans for hundreds of them, much further out, in what were once fishing grounds, as the UK tries to wean itself off fossil fuels.
"All this," he says, pointing out to sea, "is the future. It's bringing a lot of badly needed investment to our town."
Kurt used his expertise gained over 40 years of managing and owning fishing vessels to found a company called Wind Power Support. His new boats are sent out to transport maintenance equipment and carry passengers to the turbines offshore.
At Grimsby's deep water dock 23-year-old Georgea Cherrell is standing in front of a gigantic orange vessel – so tall that it looks in danger of toppling over. Georgea's a turbine technician for the Danish company, Orsted, which builds and runs the wind farms. Some she can commute to but others, such as Hornsea One, one of the world's largest, are further from the coast, so she and her colleagues stay out at sea for weeks at a time.
"You have your own cabin and everything that you need on a night time when you get back," she says. "It's like a little community really – you work with them as much as you see your family."
It is not unlike belonging to a trawler crew, except that Georgea's job is steadier and safer. And unlike fishing – which traditionally viewed women on board as bad luck – it welcomes both sexes.
"I've got a job for life here," she tells me. "We're growing as a company and it's just getting bigger and bigger every single day."
Find out more
Shell fisherman Darren Kenyon is not a fan of the wind companies, though.
"It's been a really bad thing for us," he says. "They've taken thousands of miles of sea up, and put wind poles in. They've gridded the sea with electricity cables."
Darren complains that he cannot compete with the wages the wind farm companies pay their crews. He is also infuriated that the "wind cats" – catamarans that take service staff out to the closer turbines – get priority coming in and out of the dock, or so it seems to him. Commercial fishing vessels like his, he says, are kept at the marine equivalent of a long red traffic light.
"We're just wasting fuel," he says. "And in the summertime, my lobsters especially – they're getting warmer and warmer and warmer."
Is he looking forward to the UK taking control of its waters from the EU?
"It would be lovely to get our fishing rights back, but we will believe it when we see it because we've been let down year after year, after year, after year," he says.
"They say all these things they're going to do – to get people voting for them. Then once they're in, fish will be traded for something else. It's crazy."
That kind of pessimism still haunts British fisheries, even as the politicians talk of a renaissance.
On the coast further north, I meet Danny Normandale, a 48-year-old Grimsby-based fisherman who owns two trawlers. They're just the kind of independent craft that once crammed into harbours up and down the country. But Danny argues those scenes are unlikely ever to return. Any future expansion in the British catch will look very different, he says, simply because of the economics.
"If you buy a second-hand boat such as this one, you might need £600,000," he says. "Then another £600,000 for the licence to put on the boat. So you've already spent £1.2m and that's without the fish quota."
So for an independent fisherman to go into business on his own will be next to impossible, he says.
The even bigger question is how the UK can reform the existing quota system. EU quota has become a tradable commodity and its value has soared. According to the environmental group, Greenpeace, just five wealthy UK families own or control nearly a third of the country's fishing quota.
Danny complains that the whole system conspires to push small players out. Retiring smaller fishermen have often sold their quota – sometimes to continental Europeans. Others rent out their allocation on a monthly basis; they're known in the trade as "slipper skippers" because it's assumed that they sit snug and warm at home while others go fishing.
In fact, Danny has done this himself. It's so hard to make a living from fish, he says, that he's branched out into the energy sector – not wind in his case, but North Sea oil. His boats guard fibre optic cables for oil companies, or protect oil rigs if their lights go out, effectively being a mobile light house for a month at a time.
He doesn't much enjoy the work, however lucrative it may be.
"It is disappointing. It's not the thrill of the chase any more," he says. "You're not leaving the harbour with 1,000 empty boxes aboard and 20 tonnes of ice, with your mind on the game. The thrill of the hunt – it's no longer there. Now you're going out just thinking that I'm going to go round and round an oil rig for a month and I'm going to get dizzy!"
Danny doesn't plan to fish again until the New Year because he's rented out his quota until then.
image captionLike Danny Normandale, Darren Kenyon mourns the decline of small independent fishermen
What the fishing industry will look like in the New Year, no-one knows.
At present, around 60% of all the catch landed in the UK's coastal communities goes straight to the continent. So France and the rest of the EU could kill off a British fishing renaissance simply refusing to allow fish landed in Britain to be exported to Europe.
One Dutch university study concluded that without a deal, Britain would lose more from tariffs and non-tariff barriers on its fish trade than it would gain from exclusive access to its own waters.
"If you're dealing in a perishable commodity which is going all the way down to Dover to be exported by lorry into France, then you need to move it quickly," says Martin Boyers, chief executive of the Grimsby fish market. "There's nothing in so much of a hurry as a dead fish."
And while Grimsby may not be much of a fishing town any more it is still very much a fish town. It still excels at filleting and packaging what other people (often Icelanders) catch, before selling it on to make healthy profits. The fish processing industry here now employs some 5,000 people directly. The town is fortunate that most of this fish, once processed, is sold inside the UK. But some Grimsby fish goes to the continent and depends on frictionless trade.
The emotional attachment to the fishing industry should not be underestimated. Fish are so much part of the local identity that fans at Grimsby Town Football Club, known as the Mariners, even sing about fishing while they wave inflatable fish over their heads.
image copyrightGetty Images
And Danny and Darren still mourn the lack of small, independent fishermen in Grimsby.
"We're losing part of our heritage," says Danny. "And I think it's a shame because I'm extremely proud of our heritage."