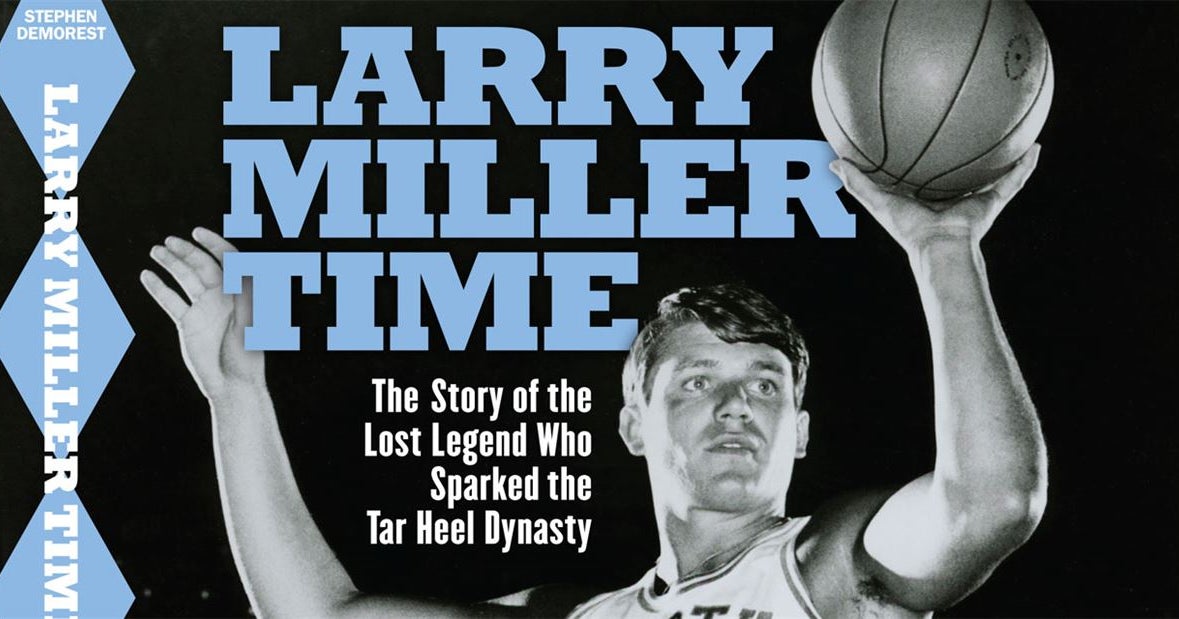 Larry Miller's achievements at North Carolina speak for themselves, and perhaps that's why he never previously felt the need to discuss them. He's the only Tar Heel to win the ACC Player of the Year award twice, and the only Tar Heel to win back-to-back ACC Tournament MVP awards.  The First Team All-American was chosen as one of the 50 greatest ACC players of all-time. His impact on the UNC program was far greater than the individual accomplishments. The argument can be made that he was the single most important recruit that Dean Smith ever signed, as his decision to attend UNC over Duke altered the balance of power in the conference, led the program to great heights, and spearheaded Smith and Carolina's unprecedented run of success that would follow.
"Larry was the winner who made Coach Smith a winner," fellow Tar Heel legend Charlie Scott said. "Like Bill Russell started the Boston Celtics tradition, Larry Miller is the tradition that Carolina talks about. Everything starts with him."
He was a generational, program- and league-altering talent. The best basketball player — and coolest guy — on campus. And then he was gone. His absence from the spotlight — from interviews and from reunions — has only added to the legend.
"Larry Miller was one of those mythical figures to me," UNC coach Roy Williams reflected. "He was one of my heroes."
But after decades of silence, he's now ready to tell his story. Miller has co-authored LARRY MILLER TIME: The Story of the Lost Legend who Sparked the Tar Heel Dynasty with Stephen Demorest. Miller recounts his journey, with stories and photographs from blue-collar Catasauqua, Pa. to glory in Chapel Hill, N.C., to pop culture immersion in Los Angeles.
How did this book happen? The authors wanted to announce the book's publication at Inside Carolina and have provided the foreword and preface, which you can read below.
Listed as the No. 1 New Release in Basketball by Amazon, the e-book version of "Larry Miller Time" is available for pre-order now (with release on Aug. 14) and the printed edition will be available for pre-order before the end of July (with release on Sept. 7) on Amazon or your local bookstore.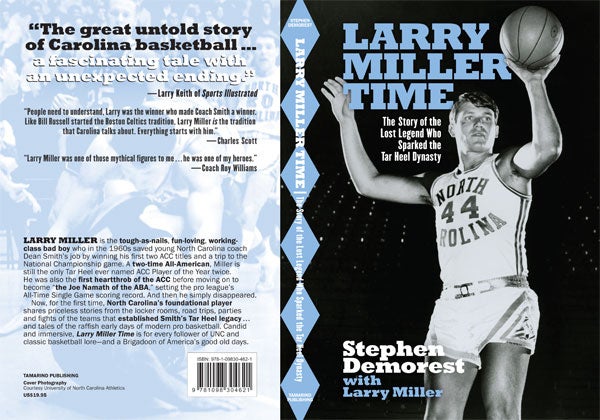 FOREWORD
by Nancy Curlee Demorest
When I was growing up in North Carolina in the sixties, the name Catasauqua was lodged in my lexicon at least as deep as Hiawatha or Timbuktu. So recently, when my husband and I wound up in a hotel just outside Allentown, Pennsylvania on Catasauqua Road, the first thing that came to mind was Larry Miller, "the Big Cat from Catasauqua," a legend of almost mythic proportions, the hard-driving, sure-shooting, movie star handsome captain and undisputed leader of the 1968 Tar Heels, my all-time favorite Carolina team.
I had a scrapbook stuffed with newspaper clippings and programs from games in Chapel Hill that my parents brought back—those I had to hide to keep my big brother from confiscating. On the playground at school, you could hear the older boys "playing" Carolina versus Duke or State, and every one of those kids diving and elbowing and scrapping for the basketball wanted to be Larry. When my friends and I played Barbies, we wound up stealing my little brother's GI Joe to play Barbie's boyfriend, who was now Larry Miller. (Ken was Dick Grubar.) My affection for #44 was so great and widely known that a local family I didn't even know very well invited me to go see him at an ACC All-Star game in May of 1968. I was ten years old and so excited to be going to Newton-Conover to watch him play, you'd have thought I was off to the Oscars. I couldn't sleep the night before. I will never forget how thrilled I was at last to be standing before him, thrusting my crumpled index card forward for an autograph. By then nervous exhaustion must have caught up with me because I blurted something which I've never been able to fully recall—probably that I knew Ursula Andress was his favorite female star—but whatever it was made him laugh and say, "You're so cute" and put his hands on either side of my cheeks before he took my card to sign. I never forgot that.
I grew up and became a television writer in New York before eventually moving back to North Carolina with my family. Larry Miller went on to have a whole big life of his own after that little encounter, in the limelight and out of it, but in recent years he had become something of a mystery. He had stopped coming back to Chapel Hill for games and reunions since Coach Smith's retirement. After Coach's death, no one seemed to hear from him much at all. The rumor was that he was reclusive, really not much interested in Carolina anymore.
As a former professional writer and a constitutionally curious person, I couldn't get this close to Catasauqua without checking him out. So I persuaded my very reluctant husband, Stephen Demorest, to drive by the address I had found. I would stop in with a coffee and see if Larry was willing to chat with me for a few minutes on his porch. Yes, it was intrusive, but I would leave immediately if he was at all annoyed.
Fifteen minutes later we found ourselves parked in front of a freshly painted colonial house with knockout roses climbing its white porch railings and fence. I balanced my phone and tray of coffees and pen and pad and headed for the door. Stephen would take the dogs for a run in a nearby park and then swing by to pick me up once I sent him a text. I knocked and waited . . . knocked and waited. The coffee was cooling.
I went to a door alongside the driveway that might've been the kitchen, knocked and waited . . . No answer. Stephen was beckoning me back to the car at this point. But the garden in back looked intriguing. From where I was standing, I could see a potting table, with rows of neatly labeled clay pots with fresh sprouts, and beyond it, thick grapevines twining over an arbor, a spreading Japanese maple . . . I stepped in farther. There were neat garden beds planted with rows of tomatoes and peppers. Arborvitae lining the other side of the yard, explosions of flowers and vines, and an open cellar door against the house. I went toward it, ready to call down, when I realized at the other end of the yard down toward the garage was a faded green chair, and in it, a big craggy white head facing the other way.
"Larry Miller?"
He unfolded from the chair like a long wooden yardstick. There appeared to be a lot of him. He was blinking and bewildered as I read my prepared speech and offered to vacate the premises immediately. But as soon as he recovered from his surprise and had ascertained that (a) I was sane and (b) had transportation and would be leaving soon, he offered me a chair and we fell into a remarkably warm and relaxed conversation.
It turned out I wasn't the first intrepid fan to find her way to Larry's door. In fact, it was a fairly regular occurrence. His legacy still loomed large in the memory of the Tar Heel faithful, not to mention Lehigh Valley fans and ABA cult followers.
We talked about our shared history as a childhood fan and college player back in the late sixties, and about certain thrilling games and Coach Smith. But other things as well: about what it's like to come back to the place where you grew up after nearly a lifetime away. About how the air there feels just right on your skin. About that Dorothy in Oz moment of "There's no place like home." We talked about the mail he had received over the years from fans, particularly the kids who wrote while he was at Carolina and how he had loved those letters. And the stories he'd collected while playing with the Heels and later
in the ABA. We talked about storytelling in general. I told him he should think about telling his.
As he walked me out to the car, I remarked on how beautiful his garden was. He told me it had been nothing but hardscrabble when he bought the house eight years before. I said he must have a gift for gardening. "Nah," he looked around, satisfied nonetheless. "Just good soil."
Larry Miller had nothing but happy memories of his time at Carolina, and fond feelings for the people who'd been so generous to him during his time there. But I couldn't help thinking how fortunate he was to have come back to this town, to these familiar sidewalks, to the friends he'd played baseball with. The place that made him, where he grew up and was nurtured. His good soil. He seemed to be a happy man, at peace with his past and in love with his present. But I still wanted him to think about telling those stories . . .
PREFACE
by Stephen Demorest
I'm idling in my SUV with two dogs in the back, double-parked in front of a beautifully kept house on a quiet side street in a forgotten town in the Lehigh Valley of Pennsylvania, waiting for my wife to be arrested for trespassing.
I somewhat deserve this for marrying a North Carolina girl with such a love of UNC basketball that she can still recite the entire 1968 Tar Heel roster she memorized as a ten-year-old. She is sentimental about Coach Dean Smith and the voice of announcer Woody Durham, but I long ago realized that the only name that really matters is "Larry Miller." This was the first true legend of Carolina basketball, whose protean feats are still related with awe by those lucky and old enough to have seen him dominate in the era before videotape, before he veered off into memory uncaptured by ESPN. For decades now he has seldom been seen or even reported, his legend surviving on rumor and myth—and today she hopes she has found him.
I met a lot of legends in my time as a journalist in New York—rock stars and actors and even a Ringling Bros. tiger-trainer—but never an athlete so hungry to make himself great that he weight trained as a child by practicing in a vest loaded with buckshot. Never a prodigy who matched up with full-grown Eastern League pros in his summer after eighth grade—and led that team in scoring. Never a phenom who broke Wilt Chamberlain's high school scoring record, becoming the top recruit in the nation, so beloved by his town that caravans of buses drove seven hours to watch his JV games in college.
When the legendary Coach Smith was still a struggling thirty-three-year-old rookie, hung in effigy by a frustrated student body, Larry Miller was the recruiting prize whose take-no-prisoners confidence became the rock on which Smith founded his Tar Heel dynasty. Twice the ACC Player of the Year, twice an All-American (and a member of the greatest All-America team ever), Miller put Carolina on his back and willed them to the National Championship game, arguably saving Smith's career and all the glory that was to come.
(I have also been schooled that he was a major heartthrob, blending the dark good looks of "Route 66" star George Maharis with the unsettling power of Robert Mitchum . . . and he was admired for giving his all in that arena, too.)
His "44 MILLER" jersey hangs in the rafters of the Smith Center now, camouflaged in the back row by those who followed after him, a holy relic of tales told by aging men and sports writers, who sometimes refer to him as a man of mystery, still pursued half a century later on the outskirts of fame. And right now by my wife, as I await a sharp rap on the glass at any moment from protective neighbors strongly suggesting that I move along.
Before I'm rousted, though, she comes waving out of the driveway, followed by the man himself. Larry looks great—lean and tanned from hours in his garden, a full shock of steel white hair shading his eyes—and he's cautiously amiable and gracious about this home invasion. He's even engaging with the dogs, who dance about like excited coeds. I decide that I like meeting him now, as a regular guy around my own age, happy to talk about dogs and his roses and not the old accolades. I like that my wife and I can look at his kaleidoscopic life from opposite ends.
Moments later we have left the man in peace. Steering back to the interstate, talking through long hours down the Shenandoah Valley, I become ever more curious about the whole arc of Larry Miller's star turn through the changing mores and expectations of late twentieth century America:
How did the blue-collar hunger of a post–World War II steel town shape Larry's character for stardom?
How did a kid growing up using an outhouse feel when Kennedys and corporate CEOs courted him to attend their alma maters?
How did his family cope in the besieged home of the most hunted high school player in the nation?
Why did Larry choose UNC, and how did he become Dean Smith's most beloved—and vexing—prodigal son?
What was Miller's pivotal role in convincing Charles Scott to break the color barrier at UNC?
Why did Miller sign with the upstart ABA, and never play in the NBA?
How did he navigate life as "the Joe Namath of the ABA," winning "The Dating Game," belly dancing with Little Egypt, and barely missing a visit from the Manson Gang when flower power LA turned crazy?
Why was he let go by the Carolina Cougars the same year he set the ABA scoring record (which he holds forever now), averaging more rebounds per minute than All-Star guards Jerry West, Kobe Bryant, or Michael Jordan?
What happens when someone's character is at odds with changes in his sport's industry?
What can Larry teach today's heroes about how to survive American stardom after your dreams come true?
By the time we reach home in North Carolina it's clear that the full story of how and why someone this beloved simply disappeared has yet to be told. But is the reclusive All-American likely to address such personal questions after all this time?
A few days later, my wife is surprised to receive a package from Larry in the mail. Inside is a friendly note saying he enjoyed their visit and a headshot from his foray into acting at Universal in the 1970s. But the real stunner comes next. It's a faded letter in a child's round lettering. A fan letter she had written and dropped into a Statesville mailbox in 1968, stored by Larry's mom with others in a trunk for fifty years, and now returned like a message in a bottle, along with Larry's phone number—proof of the enduring bond of devotion between superstar and fan.
She stares at it for a long time . . . looks at me a moment . . . then picks up the phone and dials.
"Larry? I think I know someone who can help you with those stories."
I don't know whether my wife has hooked Larry Miller or he's hooked her, but I do know we've sighted the great white whale of Carolina sports, and she—still feeling the absence of Carolina's first basketball god as surely as Ahab yearns for his missing leg—wants to chase the rest of his story. And I, well . . . Call me Ishmael.