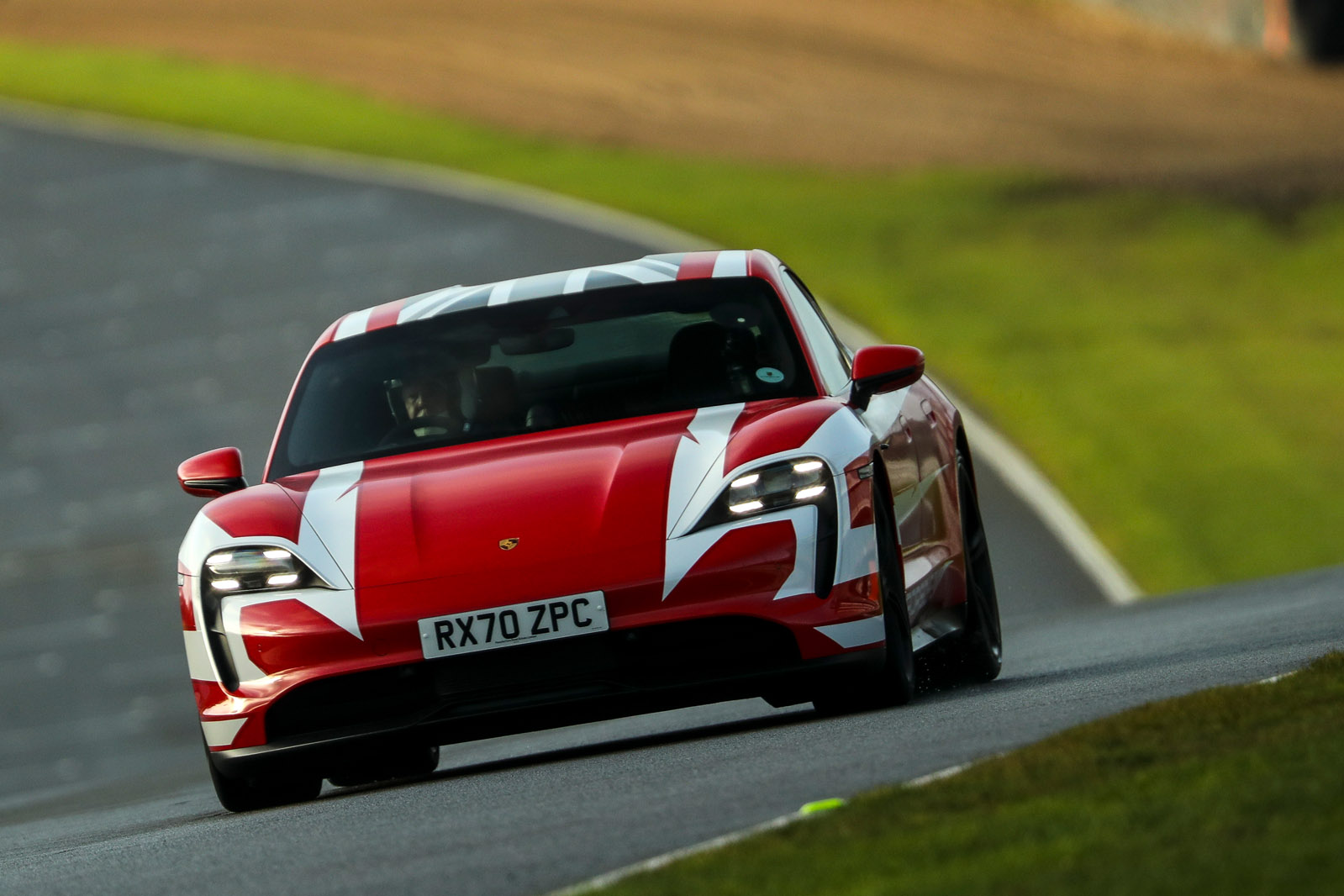 14 mins read
7 February 2021
Unbelievable: almost off into the gravel trap on the first corner. I'll get my well-thumbed excuse book out later, but for now I'll blame nerves, because this is a much bigger deal than I imagined it would be.
An old colleague had suggested that we try setting some electric vehicle records: among other stunts, a speed record for reversing a milk float. An interesting idea, but although I do have form for going backwards fast, I would rather do something more relevant. I had just driven Porsche's new Taycan and was mightily impressed. Perhaps, I suggested, Porsche might help us establish some records with that car.
Porsche did more than help: within hours of our phone call, it had started to put into a place a formidable campaign. Rather than rack up speed records with the Taycan, it instead wanted to concentrate on endurance records. And not driving the car on an airfield or even on the unchallenging and rather boring two-mile bowl at Millbrook Proving Ground in Bedfordshire. Porsche fancied Brands Hatch or Silverstone: a circuit at which it has won many races, particularly in the Group C sports car era of the 1980s.
There have always been employees at Porsche who have excelled in motorsport outside of their day jobs. Herbert Linge, who started at the company as an apprentice mechanic during the war, became a top-flight sports car racer in the 1960s. Jürgen Barth, who played an important part in developing the 911, won Le Mans in 1977. And Fritz 'Huschke' von Hanstein, a Mille Miglia and Targa Florio winner, also ran Porsche's public relations department.
Rob Durrant, who works in the Porsche GB press office, is a former racer and in this project was proven to be a master logistician. Covid-19 scuppered an earlier date set for our record-setting bonanza and a clashing event put paid to the revised date, but eventually the stars aligned and we were booked in at Brands Hatch. There's plenty of Porsche history at the Kent circuit: there was the famous BOAC 1000km in 1970, won by Pedro Rodríguez and Leo Kinnunen in a Gulf Porsche 917, and the 1984 BAe 1000km won by Jonathan Palmer and Jan Lammers in a Canon-sponsored Porsche 956.
Durrant first scanned the records (which you can see on the Motorsport UK website) and picked out 12 that could be set, all from a standing start. We would first aim to establish a record for 50km, then continue all the way to 1000km, posting en route records for imperial distances and for the distance covered in hours.
The plan was to run two cars simultaneously: a Taycan 4S and a Taycan Turbo S. The former was to be wrapped in Porsche Salzburg colours, the latter in Canon colours.
It gets better: the 4S is in this livery because in the 1970 1000km, a Salzburg Porsche 917 came in third, with Hans Herrmann and Richard Attwood sharing driving duties. Attwood is here today, sharing the 4S with me and Porsche Carrera Cup GB champion Harry King.
The Canon-liveried car is being driven by Durrant, Palmer and James Dorlin, who is the current Porsche Sprint Challenge GB champion. I'll be doing a stint in this car, too
Now you can see how the sense of occasion had me slightly rattled as I almost managed to set a record for the shortest ever record attempt. Durrant took the first stint in the Canon car and started next to me on the grid at 7am. This was part of my problem at Paddock Hill Bend; it was also dark and wet.
Half an hour later and I'm beginning to get a bit more settled in. I've never driven on a more slippery race track. The Taycan is wriggling and slipping out of every corner, with its Porsche Stability Management system (aka Porsche, Save Me!) working hard to keep us on the asphalt.
Durrant did a reconnaissance at Brands earlier and has spent hours on the abacus working out an ideal lap time and energy consumption. For the 4S, it works out at a time of 1min 8sec and a consumption of 70kW per 100 miles.
He has also created a diagram of Brands with the speeds for which we should aim at each corner's apex. For example, Paddock Hill Bend should be taken at 62mph, Druids at 42mph, Graham Hill Bend at 50mph, with light acceleration up to 65mph on the Cooper Straight, before lifting and coasting into McLaren before Clearways at 52mph and then accelerating to 85mph for the Brabham (or pit) Straight.
It sounds easy, and it probably is for my professional team-mates. King and Dorlin are respectively 19 and 21 years old, Durrant is relatively young and Attwood is probably the quickest octogenarian on the planet, as anyone who has seen him drive his BRM P261 Formula 1 car at Goodwood would agree. What we're doing today is obviously not a race, but the point is that you don't want to let your team-mates and the whole team down.
Now I have another problem: I feel sick. I can get queasy if I read a newspaper in the back of a car, but I've never felt iffy behind the wheel. Perhaps a bit of fresh air might help, so I wind down my window a bit. The crew back in the pits think I've done this by accident so close it via their app. I'm also chomping through the battery power.
The difference between an amateur and professionals, especially young ones, is that they can deal with many different inputs at once. Driving the car is so natural for them that they have plenty of brain capacity left over to deal with other stuff. Most of my capacity is being used up on keeping the car on the track and keeping as close as I can to the lap time required. Only occasionally can I squint at the display on the Taycan's dashboard that shows its energy consumption. I don't even like taking my eyes off the track to look at the brake regeneration display.
Up in the media centre above the pits, we have team managers and technicians peering at lap times, data and the cars' energy consumption. We're in constant contact with them via a phone in the car. I don't tell them that there's a strong chance that, while this car is having its 25-minute-or-so charge, they might have to clean a sausage-and-bacon bap from the dashboard before King takes over.
Thankfully, my breakfast is kept on board as I pull into the parc fermé where the Taycan will mate with Porsche's monster recharging truck. Durrant's projected speeds in corners are just a guide, and the plan is to discuss with the other drivers different techniques and strategies.
What we're not going to stray from is the mode settings that we've selected in both cars. Range driving mode gives us a maximum speed of 85mph along the Brabham Straight, and we've set the air conditioning to Eco Plus (or we can switch it off completely). The only time that we will switch out of these modes is if we need to reduce battery temperature.
The ideal battery temperature for recharging is 30deg C: if the batteries are much hotter than this when we're out on the circuit, we can reduce the heat by selecting Sport Plus mode, which opens cooling vanes at the front of the car. Another thing for my limited grey matter to deal with.
Attwood has another theory about my queasiness. "It might be nerves," he suggests, "but it might also be your closed-face helmet. Jochen Rindt used to struggle with nausea when he wore one." This is one of the numerous reasons why I asked Porsche if they could bring Attwood along as a driver; I knew there would be a lot of sitting around, and I wasn't going to get bored quizzing Wolverhampton's finest-ever driver on his experiences in the 1960s in Formula Junior, F1 and sports cars.
As I suspected, King is lapping consistently and efficiently, with energy consumption below our target. I think it's a combination of smoothness and carrying speed through corners. It looks like there's a dry line beginning to form and my stint in the Canon car is about to come up, so perhaps I can refine my technique and use less juice. The Turbo S comes as standard with a 94kWh battery; you can specify the 4S with this, but it comes standard with an 80kWh unit, which is what our Salzburg car has. That it produces only 490bhp (without overboost) to the Turbo S's 625bhp is irrelevant for the way that we're driving and for our task.
The dry line has perked me up for my stint in the Canon car, and so has the news that (subject to official confirmation) I've set records for 50km, 100km, 50 miles and one hour. The Durrant/Dorlin/Palmer car has also been bagging records.
I can't believe how well this is all going – and in particular how quickly the cars are being recharged. Pit stops for recharging are taking no more than 25 minutes. The cars are running faultlessly, too. I have a bit of a drama in the Canon car towards the end of my stint as the predicted range drops to about 10 miles before the car suddenly goes into limp-home mode and then stops dead at the end of the Cooper Straight. I'm not allowed outside assistance, and although the entrance to the pit lane is only around the next corner, pushing a 2300kg EV uphill isn't an option. What to do? Switch it off and switch it on again – and sure enough, the Taycan whirrs into life and I get back to the charging station.
The original plan was for me to start the attempt in the Salzburg car and then be the one to take it over the line at the finish. That has been scuppered by my uneconomical driving style, because we're going to have to put in an extra charging stop, after which King will do the honours.
First, though, I have to get through my second stint. It's now dark and raining heavily. Really heavily. Durrant is about to take over the Canon car for his last run before Dorlin takes over for the finish. We have an 8pm curfew, and it's going to be very
tight for us to achieve our 1000km target. Even Durrant is nervous, which is a bad sign. Had I gone off at 7am, it wouldn't have actually ruined the day, because we would have just started a bit later. Now, after almost 10 hours of running, an off into the gravel would be a disaster.
Having consulted my excuse book, it turns out that the fresh and unscrubbed tyres on 4S might have been responsible Control room was set up at Brands to oversee the cars' speed and efficiency for the temporary loss of control this morning, not my lack of car control. Actually, now that the track is teeming wet, it's a bit easier, because there's no dry line to find. Durrant warns me of a puddle on the Cooper Straight via phone to control, but he's 10 seconds too late and I've aquaplaned across it.
I knew Brands pretty well before today but now, with two stints in the dark, I know every millimetre. At last I'm using less energy and still managing to match Durrant's lap times. No moments, no kerbs used (Durrant asked us to avoid them to reduce the risk of a puncture; something the youngsters found harder to do).
So it's left to the young stars to safely take the two Taycans across the finishing line at just a couple of minutes after 8pm. What a day: not only have we established the 12 records we were hoping for but have also set a bonus 13th, which is the 12-hour record.
The gauntlet has been thrown down, but these records aren't going to be easy to beat. For sure there will be EVs in the future that will be capable of doing so, but it's going to be the organisation and logistics that are going to be the difficult bits. Will others have access to a mobile charging system powerful enough?
It has been a thought-provoking experience. Could we one day see electric endurance racing? Even an electric Le Mans 24 Hours? One thing is for sure: driving high-performance EVs on a proper racing circuit is a lot of fun and very challenging. Especially in the rain at night.
Steve Cropley's trackside view
It was seeing that a booking had been made for 20 rooms at the Mercure hotel next to Brands Hatch that first alerted me to the fact that this Porsche-Autocar 1000km electric car record attempt was a much more serious affair than I had envisaged.
That and the 20 sheets of itinerary, records brief, lap time predictions, vehicle specifications and scrutineers' and timekeepers' phone numbers that had squeezed their way into my inbox a few days earlier. Crikey, I thought. This is no joke.
Distance and time events of my previous experience have tended to be much more amateurish affairs and just a little bit boring. They've required monotonous constantspeed laps of an undemanding circuit, usually banked, during which the drivers, once they had attained an agreed cruising speed, could almost get back to listening to podcasts or finishing a crossword while awaiting a call to the pits in an hour or two's time.
This was very different: seven excellent drivers (including a couple of modern 911 jockeys and one of Porsche's greatest-ever Le Mans stars), two Taycans lapping all day at far-from-trivial speeds, a super-tech charging truck imported for the day from Germany and all of these assets gathered at one of Britain's greatest race circuits. With a flutter in my stomach, I suddenly knew this was going to be a proper test – even for someone whose job was to stand around with a notebook and wait for things to happen.
If you know our man Goodwin, whose bold proposal hatched this whole thing last summer, you will be aware that he has many great qualities, but organising events isn't one of them. You would never associate him, for instance, with the vast and detailed document of which we all had a copy, predicting within a few percentage points a time for every lap and pit stop in a 13-hour, 515-lap, 1000km record-breaking drive for two cars around a wet Brands Hatch. Neither would he have organised the 30-odd people it would take to stage the whole thing.
It soon became clear that Goodwin's great idea had been picked up, expressed and expanded by Porsche GB's Rob Durrant, former racer and now senior press officer, who had instantly seen its potential, understood its relevance to his competition-minded company and taken Porsche's approval of the whole thing to the absolute limit.
The idea of calling the cars Salzburg (4S) and Canon (Turbo S) was his, and so was the plan to stage the event at Brands, where circuit boss and former F1 racer Jonathan Palmer won a 1000km race in 1984, driving a Porsche 956.
"There's a tendency nowadays to default to Silverstone for things like this," says Durrant, "partly because of the British Grand Prix and because our Porsche Experience Centre is there. And we did do an exploratory practice session there. But we practised at Brands, too, and found the flowing nature of the corners was ideal. This and the Porsche 1000km connection with circuit boss Jonathan Palmer – who was extremely helpful – meant the whole thing just fell into place."
Even though his experience as a successful Caterham racer and driver coach provided some of the answers to this event's immaculate organisation, I was still curious to know more about how Durrant had done it. Some of the know-how, he admitted, came from an addiction to computer games like F1 Manager. More came from having organised a successful Le Mans-length Norway-to-Spain drive for the Taycan launch back in 2017. The rest arrived by the application of logic.
"There were no prior records to beat," he explains, "so the field was open. We could easily calculate how many laps were needed, and from there it was a matter of doing a practice session at Brands to find the lap time sweet spot, where we used least energy for most speed. I took a guess at 1min 8sec, did some laps at that, then zeroed the trip meter and did more at a 1min 10sec average to see how much energy you saved by going a bit slower. We based our calculations on those findings.
"In the event, we fell below the optimum time for a while early on, because the circuit was so greasy. But our research did help a lot."
When the Taycan 4S crossed the line in just over 13 hours (beating its more powerful sibling because of greater endurance and slightly easier charging), it was just 16 minutes behind the time boldly predicted on the basis of one 45-minute summer test session in one car. The crew had made a series of brilliant guesstimates, and they had come off.
The night before the start, I was on hand for a series of calm meetings and briefings. The charging truck was set up and tested. The competing cars (freshly wrapped members of Porsche's press fleet) were parked in garages and photographed copiously. It was agreed that we would assemble at 5.30am in the freezing Brands paddock the next morning, ready for a prompt 7am start. The cars would be ready; a four-man control room (two crew for each car) would be set up and in constant communication with each car; and lap-by-lap records would be rigorously kept.
What I wasn't prepared for was seeing how much the drivers had to learn. On an exercise like this, you're constantly trying to save energy by maximising coasting and regeneration while minimising acceleration, which means being as close to the ragged edge as possible at each apex.
Learning to do that would have been a lot easier in daylight, on a dry track and in no-consequence practice conditions, but in practice the crews had to learn different techniques while maintaining lap times. It was fascinating to watch everyone's efficiency improve.
As things turned out, the results could hardly have been more ideal. The 4S (Salzburg) set most of the distance records and the Turbo S (Canon) set most of the time records. Distinguished former Porsche racers Attwood and Palmer were on hand to claim most of them. The whole thing was carried off at a level high enough to make any rival bid look extremely unlikely to prosper.
When the idea for this project was new, when I heard it had been classified as 'elite motorsport' and had thus been allowed to go ahead by the authorities, I had wondered if we were pushing the boundaries further than they could go. But after I saw how well it had been tackled and what was achieved, I had no doubts.
Attwood: a fast master
Clearly a natural talent, Richard Attwood went from racing a Triumph TR3 in 1960 to Formula Junior the next year. His first Formula 1 race came in 1964 for BRM and he continued to shine in single-seaters throughout the 1960s, with a best F1 result of second at Monaco in 1968, behind champion Graham Hill.
Attwood is best remembered for, along with Hans Herrmann, giving Porsche its first overall victory at the Le Mans 24 Hours in 1970. Although he retired in 1971, Attwood briefly came out of retirement to drive an Aston Martin at Le Mans in 1984. Since then, he has been a regular in historic racing, and he's still extremely quick at the age of 80.
Mind you, one of Attwood's greatest achievements was managing to get 419,000 miles out of the original clutch in his Peugeot 405 Estate. Now that takes some smooth driving.
READ MORE
New Porsche Boxster 25 Years revisits its roots 
New Porsche 911 Turbo arrives with 572bhp flat six 
1977 Porsche 911 Turbo reimagined as sci-fi restomod
Newsletter
Are you as passionate about cars as we are?
Get all the best car news, reviews and opinion direct to your inbox three times a week.
Subscribe to the Autocar newsletter now.