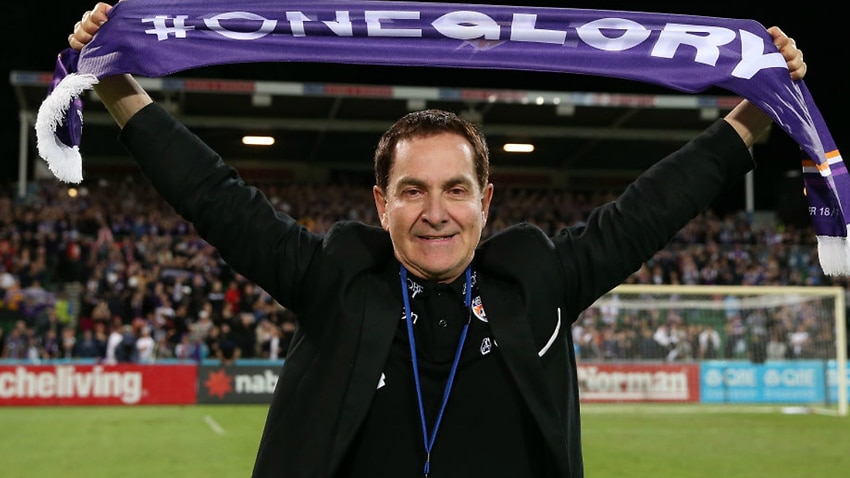 With the competition writhing in a quicksand of sinking metrics, Sage revealed the London Football Exchange (LFE) – of which he is the newly-appointed chairman – was committed to a 100 per cent acquisition of Glory, as it seeks to assemble a seven-club portfolio across the globe.
However, he is holding out for 20 percent – and wanted 40 per cent – as he flies to Zurich to thrash out the final details of an innovative deal which will allow fans to purchase a share of clubs through the acquisition of bitcoin "tokens".
Speaking from from Dubai where he is in transit, Sage said the LTE vision represented the future, and was the culmination of six months of negotiations.
An EPL club and others in France, England, Italy and beyond are on the LFE radar, with Glory promoted up the pecking order after talks with the unnamed EPL side temporarily stalled.
With Glory set to be first cab off the bitcoin rank, Sage told The World Game: "The model is 100 per cent ownership of all the clubs, but I'm trying to change the model before it starts and ensure I maintain 20 per cent ownership.
"That shows the level of confidence I have in the A-League moving forward.
"I see the future of football in Australia completely differently to all the negativity you see in the media.
"I wanted to keep 40 per cent because I believe in an independently administered A-League.
"We have a very smart bunch of people running the competition, with the likes Anthony Del Pietro (Melbourne Victory), Paul Lederer (Western Sydney Wanderers) and Simon Pearce (Melbourne City) all very successful people with a clear vision of the direction the competition needs to go in.
"There are lots of changes coming and I believe there will be massive uptick across all metrics in the seasons to come."
Sage explained that LFE planned to duplicate
the multi-club ownership model of the City Football Group, which has the likes of Manchester City, Yokohama F. Marinos and Melbourne City in its stable.
But a key difference is that acquired clubs will not be rebadged, and will retain their "colours, history, identity and culture".
"This is a completely different model whereby it's a cryptocurrency block chain system where four billion football fans around the world can buy the token and own a part of a club," added Sage, who will remain Glory chairman for a minimum of five years.
"Fans will be able to buy a percentage of Glory – it's a unique system.
"LFE listed the coins six months ago and they have already quadrupled in value. You can see it trading on the bitcoin.com exchange and they have done very very well.
"Diversification is the way ahead. Once the other clubs have been purchased our players and staff will be able to move freely from place to place."
Sage was even offered payment for the club in bitcoin but opted for cold hard cash.
"I understand how it works because it's similar to the stock market, other than the fact that bitcoin is backed by nothing," he added.
"But in this case you buy the tokens and you have a share in the ownership of the football club. It will take hundreds of millions of coins to take ownership of a club or to have a big influence.
"But it's about being able to say you own a certain fraction of a team and enjoy the benefits that come with that, through merchandising and the like.
"If you are a token holder at say a French club in the group then you can come to Australia and have an automatic seats at a Perth Glory game