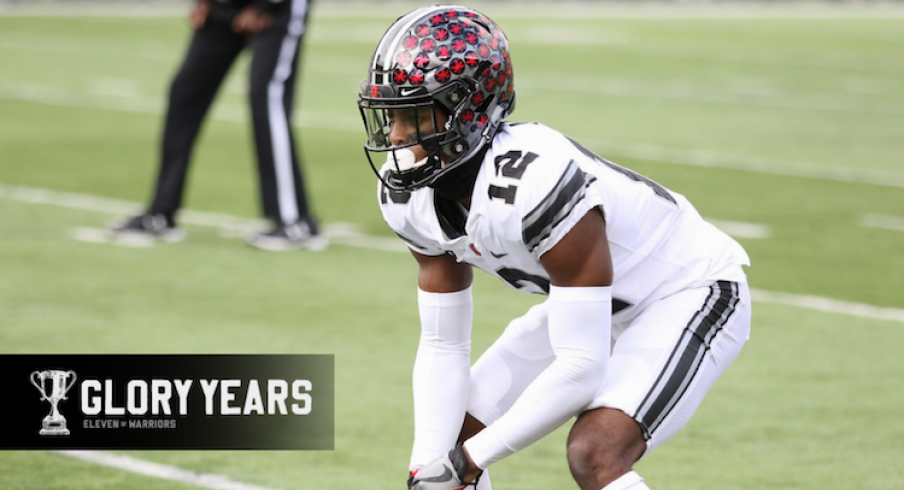 Welcome to Glory Years, where we rank the top individual seasons in Ohio State football history.
As teams have begun to pass the ball more than ever before, a lockdown cornerback has become one of the most valuable assets in football. A player that can take away an opponent's best player and wreak havoc on half of the field is more important than ever. 
The Buckeyes have been ahead of the curve on this development. Ohio State's claim to DBU has become synonymous with the Buckeyes' elite cornerbacks; the Bucks have churned out two consensus All-Americans in the past three years and five in the program's history. Today, while understanding the difficulty of using statistics to evaluate cornerback play, we'll rank the ten greatest seasons by a corner in program history. 
Methodology

As we did with the safeties, we'll be using a points system to evaluate the greatest cornerback seasons in program history. Using the season statistics dating back to 1972, we gave points for each corners' statistics, weighted based on the rarity and relevance of the event. Additionally, due to the difficulty of evaluating cornerback play using box score statistics, points were also given for being named an All-American and winning the Jim Thorpe Award.
Tackles per Game
Tackles for Loss per Game
Pass Break-Ups per Game
Chaos Factor (Interceptions + Forced Fumbles per Game)
Some data, such as interceptions, was not consistently tracked throughout Ohio State's history. For the missing data, the mean for all safeties was used. 
10. Dustin Fox, 2002

Playing opposite of Chris Gamble, Dustin Fox added to one of the best cornerback tandems in the nation. The Canton native averaged a pass breakup a game and six tackles per contest, making him an important member of Ohio State's championship run in 2002. 
Fox was a four-year starter in Columbus, with his most famous moment coming in the biggest game of his career, snagging an interception in the Fiesta Bowl. 
9. Jeff Okudah, 2019

With a season still fresh in everyone's minds, Jeff Okudah's junior year has been the most recent set of evidence towards the Buckeyes' claim to DBU. El Jefe was rarely targeted but finished the year with nine pass breakups and three interceptions. 
The Texas native was a consensus First Team All-American and was snubbed for the Jim Thorpe Award. 
8. Bradley Roby, 2012

With his best year coming in the bowl-ban season, Bradley Roby's redshirt sophomore campaign was a continuation of his breakout year in 2011. The Georgia native recorded 1.55 pass breakups per game in Urban Meyer's first year, the best rate among cornerbacks since at least 1972.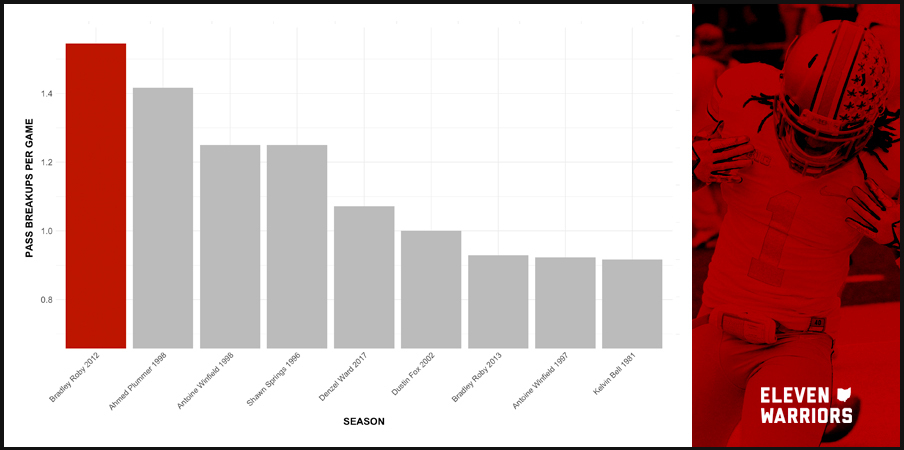 Roby earned First Team All-Big Ten honors after the season. After returning for his junior season, he was once again an All Big-Ten selection. 
7. Neal Colzie, 1974

After starting for the previous two years, Neal Colzie's senior season was ahead of its time. The star cornerback averaged two interceptions for every three games played, giving him the second-best chaos factor of any cornerback in Ohio State history. 
Colzie was selected to Ohio State's All-Century team in 2000 and is near the top in many of Ohio State's punt return records. 
6. Denzel Ward, 2017

After playing in the slot with one of the greatest secondaries in program history, Denzel Ward earned his chance to shine on the outside his junior year. Ward did not disappoint, breaking up 15 passes and locking up half of the field. 
Denzel Ward
was a consensus All-American in 2017 and the fourth overall pick in the 2018 draft. 
5. Ahmed Plummer, 1998

In his second year as a full-time starter while playing opposite of Antoine Winfield, Ahmed Plummer proved he could handle himself just fine. Destined to be targeted en masse, Plummer made the most of it, breaking up a school-record 17 passes while intercepting four more. 
Despite never earning an All-American bid, Plummer had one of the most successful careers in Buckeye history, finishing his time in Columbus with 14 interceptions, tied for the sixth-best of in program history. He was also a semifinalist for the Jim Thorpe Award in 1999. 
4. Craig Cassady, 1975

The son of Ohio State legend Howard Cassady, Craig Cassady's breakout senior season is among the most surprising in Buckeye history. Cassady's final year was legendary, tying the school records for interceptions in a single game (three against Michigan State) and in a season (nine for the year). He has the highest chaos factor of any Ohio State corner in program history. 
The senior earned All-Big Ten honors following the season. 
3. Shawn Springs, 1996

After redshirting his freshman year, Shawn Springs would spend the rest of his career making his case as one of the best cornerbacks in program history. He started from 1994 to 1996 and was left on an island for most of his junior season. The All-American, despite the few targets, broke up 15 passes in 1996, tied for the third-most in program history among cornerbacks. 
Springs was named the Big Ten's Defensive Player of the Year after the season. He ended his career holding Arizona State star Keith Poole to just ten yards in the 1997 Rose Bowl and was the third overall selection in the draft just a few months later. 
2. Malcolm Jenkins, 2008

In his fourth year as a letterman for the Buckeyes, Malcolm Jenkins made sure his last year was his best. The former three-star recruit forced three fumbles (tied for eighth-most among cornerbacks), was a consensus All-American, and won the Jim Thorpe Award. 
Before changing to safety in the NFL, Malcolm Jenkins had one of the most decorated careers in Ohio State cornerback history, finishing with 11 interceptions and nearly 200 tackles. 
1. Antoine Winfield, 1998

A member of one of the greatest Buckeye squads of all time, Antoine Winfield's junior campaign is easily the best cornerback season in program history. Despite not recording any interceptions, the Jim Thorpe award winner broke up 15 passes (tied for third-most in program history) and recorded 75 tackles (eighth-best among cornerbacks). 
Winfield was an integral part of a defense that allowed just 160 passing yards per game. In addition to winning the nation's top award for defensive backs, he was a consensus First Team All-American and is a member of Ohio State's All-Century team. 
|   | Player | Season | Tackles/G | TFL/G | PBU/G | Chaos | Score |
| --- | --- | --- | --- | --- | --- | --- | --- |
| 1 | Antoine Winfield | 1998 | 6.250 | 0.417 | 1.250 | 0.378 | 2.882 |
| 2 | Malcolm Jenkins | 2008 | 4.385 | 0.308 | 0.692 | 0.692 | 2.535 |
| 3 | Shawn Springs | 1996 | 3.250 | 0.000 | 1.250 | 0.294 | 2.407 |
| 4 | Craig Cassady | 1975 | 2.833 | 0.083 | 0.667 | 1.538 | 2.355 |
| 5 | Ahmed Plummer | 1998 | 4.333 | 0.333 | 1.417 | 0.667 | 2.333 |
| 6 | Denzel Ward | 2017 | 2.643 | 0.143 | 1.071 | 0.286 | 2.204 |
| 7 | Neal Colzie | 1974 | 2.917 | 0.167 | 0.500 | 1.372 | 2.034 |
| 8 | Bradley Roby | 2012 | 5.250 | 0.167 | 1.545 | 0.333 | 2.029 |
| 9 | Jeff Okudah | 2019 | 2.429 | 0.071 | 0.643 | 0.500 | 1.971 |
| 10 | Dustin Fox | 2002 | 6.000 | 0.179 | 1.000 | 0.643 | 1.961 |
| 11 | Derek Ross | 2001 | 3.417 | 0.250 | 0.500 | 1.250 | 1.946 |
| 12 | William White | 1987 | 3.727 | 0.182 | 0.636 | 1.091 | 1.932 |
| 13 | Vinnie Clark | 1990 | 4.333 | 0.167 | 0.333 | 1.250 | 1.817 |
| 14 | Ahmed Plummer | 1999 | 4.583 | 0.000 | 0.750 | 0.833 | 1.813 |
| 15 | Will Allen | 2003 | 6.385 | 0.231 | 0.462 | 0.308 | 1.812 |
| 16 | Antoine Winfield | 1997 | 7.692 | 0.615 | 0.923 | 0.385 | 1.754 |
| 17 | William White | 1985 | 4.250 | 0.167 | 0.333 | 1.167 | 1.729 |
| 18 | Nate Clements | 2000 | 5.667 | 0.750 | 0.750 | 0.667 | 1.717 |
| 19 | Walter Taylor | 1993 | 5.583 | 0.000 | 0.500 | 0.917 | 1.696 |
| 20 | Greg Rogan | 1986 | 6.077 | 0.385 | 0.231 | 1.077 | 1.650 |
LEGEND: TFL/G Tackles for Loss per Game CHAOS Forced Fumbles + Interceptions per Game