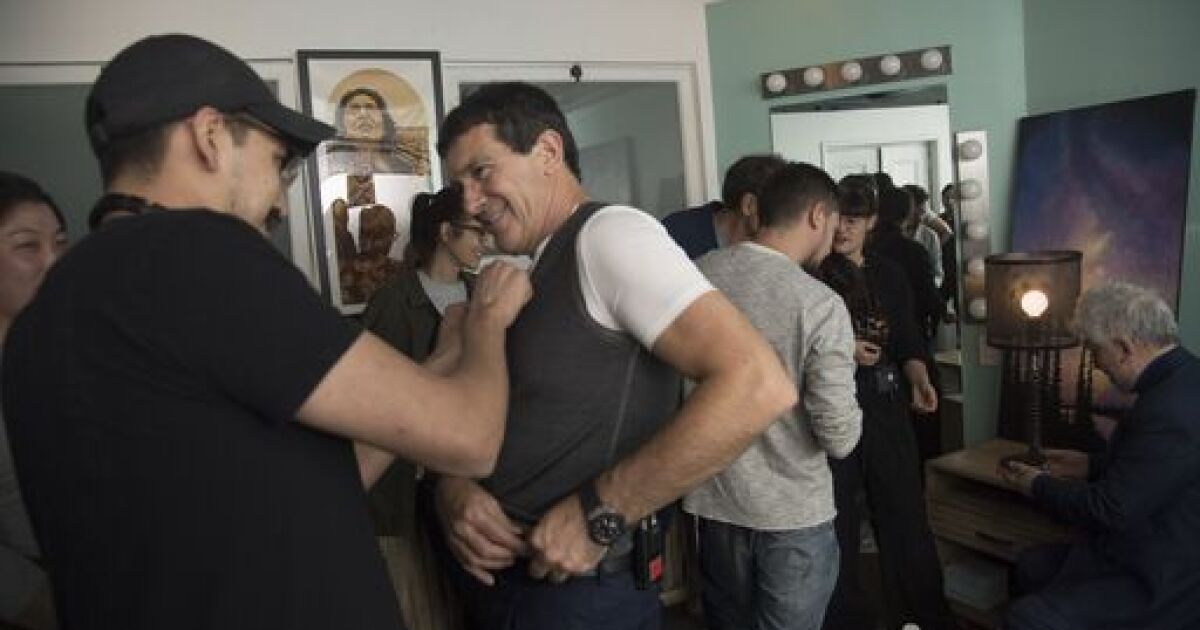 Tell an actor that his work is Oscar-worthy, and he'll graciously accept the kind words while silently damning you for potentially jinxing his chances.
Tell an actor who's never been nominated for an Oscar that this is finally going to be his year and, as was the case with Antonio Banderas a couple of months ago, he'll smile, offer his gratitude and then, casting his gaze downward, softly add that he's heard that kind of thing before and he doesn't want to get his hopes up.
Backstage at the Montalbán Theater in Hollywood in late October, I was talking with filmmaker Pedro Almodóvar, shortly before leading a Q&A for "Pain and Glory," his moving, loosely autobiographical story of acceptance and reconciliation, creation and remembrance.
Banderas arrived and, before he could sit down, was surrounded by well-wishers telling him that he gave the performance of his career in the film.
Banderas had already won the best actor prize at the Cannes Festival, where "Pain and Glory" premiered. Now everyone was telling him he'd be going to the Oscars. "That's nice to hear those kinds of things," Banderas told me later. "But an Oscar is very difficult. I don't even want to think about it."
So when he was having lunch with friends Monday at a restaurant in Málaga, Spain, and people around him began screaming, Banderas finally allowed himself to think about it. At the age of 59, three years after suffering a heart attack that forever altered his perspective (heart attacks will do that to you), he had earned his first Oscar nomination.
Amid all the elation and anger, thanks and fury that come with the Academy Awards, there are dozens of stories like that of Banderas. That he earned a nomination was something of a small miracle. His work in "Pain and Glory," playing a filmmaker fighting physical pain and creative malaise, is subtle and shaded. And Oscar voters typically reward not the "best" but the "most."
This year's nominations reflect that mentality. You could make a case that Banderas gives the most interesting and deeply felt performance of the five nominated actors, a group that includes Joaquin Phoenix ("Joker"), Adam Driver ("Marriage Story"), Jonathan Pryce ("The Two Popes") and Leonardo DiCaprio ("Once Upon a Time … in Hollywood").
In addition to the Cannes award, Banderas won the best actor prize from the Los Angeles Film Critics Assn. and the New York Film Critics Circle, groups that rarely agree on anything, as well as the National Society of Film Critics. Film critics don't hand out the Oscars. But when you have that kind of unanimity among the nation's three most prominent critics organizations, academy voters should at least listen.
Julieta Serrano in "Pain and Glory."" height="454" src="https://ca-times.brightspotcdn.com/dims4/default/b70b7c9/2147483647/strip/true/crop/4096x2214+0+0/resize/840x454!/quality/90/?url=https%3A%2F%2Fcalifornia-times-brightspot.s3.amazonaws.com%2F35%2F37%2F336786144a688953c0b45b0d6be9%2Fla-photos-handouts-la-ca-pain-and-glory-movie-118.JPG" width="840" />