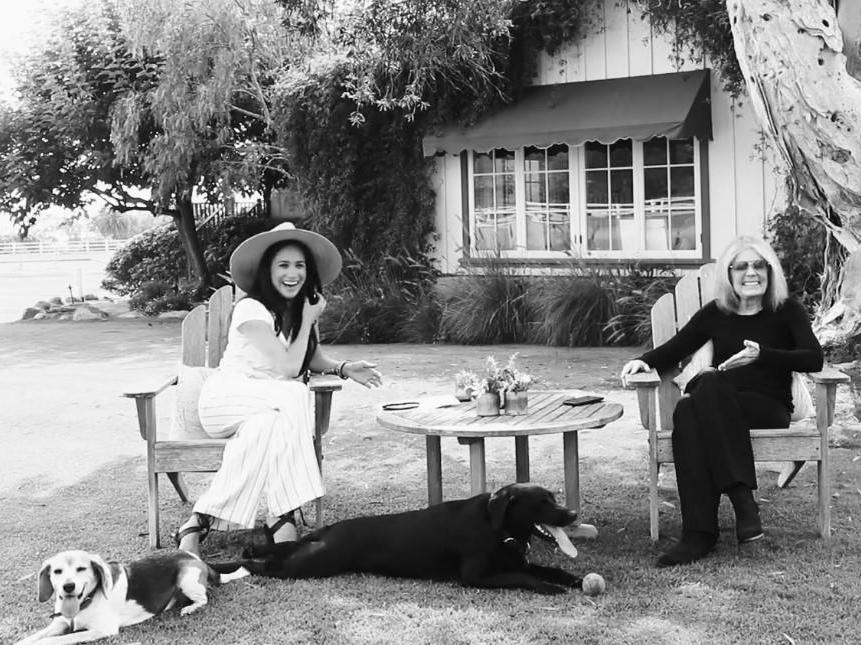 The Duchess of Sussex is continuing to use her voice to speak out about the importance of voting, this time in conversation with feminist icon Gloria Steinem.
According to a preview video shared by MAKERS Women – a media brand that "accelerates the women's movement" – on Instagram, the two women sat down for a "historic backyard chat" to "discuss representation, why each vote matters and how all women 'are linked, not ranked'."
The black-and-white clip shows Meghan and Gloria sitting outdoors with a wooden table between them in order to comply with social distancing regulations.
Download the new Independent Premium app
Sharing the full story, not just the headlines
For the conversation, Meghan wore a casual ensemble of pinstripe linen trousers, a white T-shirt and a wide-brim summer hat, while Gloria was dressed in a black long-sleeve top, matching trousers, and aviator glasses.
"Meg, welcome home," the author and activist said to the duchess. "I'm so glad that you're home."
"Thank you," Meghan replied. "Me too, for some many reasons."
The remainder of the clip teases the pair's conversation, during which Meghan acknowledges the work that Gloria, who was one of the most prominent figures of the Women Liberation movement of the 1960s and 1970s, and countless other women contributed to feminism.
"People forget how hard women like you and so many others before you fought for us to just be where we are right now," Meghan said.
Gloria replied: "If you don't vote, you don't exist.
"It is the only place we're all equal, the voting booth," while Meghan nodded in agreement.
Gloria went on to speak about the importance of women — especially young women — voting in
the upcoming election.
"What worries me the most are young people, who I understand are the least likely to vote and I can understand the feeling that they don't think they have an impact," she said.
"Yet, it's more important for them to vote than anyone else because they're going to be alive long after I am, and they're going to be suffering the consequences."
Meghan asked: "Do you feel hopeful?" to which Steinem replied: "I do feel hopeful."
Meghan and Prince Harry's dogs – Guy and Pula – also made an adorable cameo towards the end of the clip.
"[The dog] wants to be on camera," Gloria jokes while gesturing at Pula, who Meghan and Harry adopted together in 2018, shortly after they tied the knot.
The full conversation between Meghan and Gloria is set to be released on Wednesday.
Their discussion follows Meghan's appearance during the When All Women Vote Virtual Couch Party, where she echoed a similar sentiment, stating: "If you don't vote, then you're complicit.
"We can make the difference in this election and we will make the difference in this election."
The duchess has come under fire for speaking publicly about the upcoming US election, with Piers Morgan calling for her and Harry to be stripped of their royal tiles.
"The Queen must strip the Sussexes of their titles," the Good Morning Britain host wrote on Twitter.
"They can't remain as royals and spout off about foreign elections in such a brazenly partisan way."