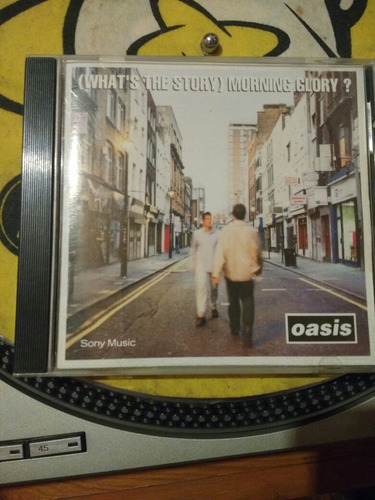 Características principales
| | |
| --- | --- |
| Nombre del artista | oasis |
| Nombre del álbum | (what's the story) morning glory? |
| Formato | Físico |
| Formato del álbum | CD |
| Con pistas adicionales | No |
| Año de lanzamiento | 1995 |
Otras características
Cantidad de canciones: 12

Género: Rock
Origen: Argentina

Cantidad de álbumes: 1
Descripción
Cd usado, excelente estado.
Preguntas y respuestas
¿Qué querés saber?
Preguntale al vendedor
Últimas realizadas
creo q no me conviene , piden eso x masterplan solo
30/06/2020Denunciar
Retiras en persona o envío?
30/06/2020Denunciarcuanto me dejas the masterplan y dont believe the truth??DenunciarSoy de gualeguaychu. No te lo puedo pagar en efectivoDenunciar
Podes comprar algo de cien x ejemplo, pagas el envío, y luego te paso cbu y me depositas, hay
mucho gasto de comisión y ahora me cobran el IVA, entendés?
12/03/2020DenunciarCuanto me saldrian los 4 cds de oasis ?Denunciar
El precio es x uno, y el que está indicado en el título, si los querés todo los tengo y te hago precio
16/11/2018Denunciar