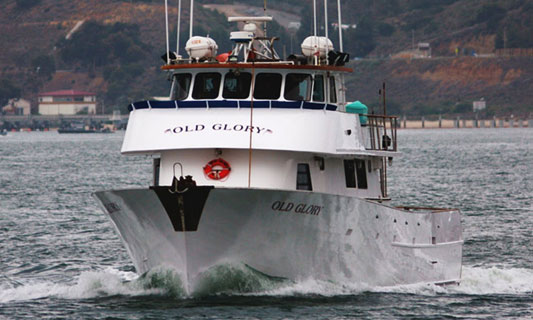 Features
She represents the top of the line for local and Multi-day fishing. From passenger accommodations to crew service, this 85-footer is an angler's dream. Passenger comforts include open berthing accommodations, sun deck, air-conditioning, fresh water maker, two heads and hot shower. A shipboard entertainment center includes color TV, DVD, video library and stereo. A large modern galley seats 40 and boasts a menu known for its extensive offerings and expert preparation. The Captains run a very professional Sportfishing operation with special attention to anglers satisfaction.
Spacious Sun Deck
Two Heads with Hot Shower
Modern Galley Seat 28
Color TV
VCR and Stereo
Fully Air-conditioned
15 Ton Refrigerated Fish Hold
4500 Gallons Fuel Capacity
Two Generators
Fresh Water Maker
Full Electronics including Scanning Sonar
Season
Destination
Monday-Thursday
Friday & Saturday
Sunday
July Aug. Sept. & Oct.
Freelance
$7,000 (41)
$8,000.00 (41)
 $8,000.00 (41)
Nov.
Freelance
$4,600.00 (41)
$5,850.00 (41)
$5,100.00 (41)
Spring
Islands (15 miles)
$4,200.00 (41)
$5,100.00 (41)
$4,600.00 (41)
WINTER ONLY
Dec. Jan. Feb. – Mid March
Monday-Friday
Saturday
Sunday
3 Hour Whale Watching
$850.00 (46)
$1,600.00 (46)
$1,100.00 (46)
1/2 day fishing local kelp beds
$1,100.00 (44)
$1,600.00 (44)
$1,600.00 (44)
Full day fishing local kelp beds
$3,200.00 (44)
$3,600.00 (44)
$3,600.00 (44)
Special Events
Season
Price
PARADE OF LIGHTS
December only
$2,100.00 (46)
BURIAL AT SEA
Winter only after 4:30PM
$700.00 (46)
BAY CRUISE
Nov, March or April only
$300.00 per hour 3 hour minimum
Additional costs are: Mexican Permits, Mexican Tourist Visa if Needed, Rod rental, Food, Beverages, Gratuity, Terminal Tackle, Fish Cleaning, California

Fishing Licenses, etc.  Galley Minimum $250 per day on overnight trips, $200 on 1/2 day and Full day trips. A 3.5% processing fee applies to all orders.
*The numbers found in parenthesis refer to the number of passengers accommodated at the quoted charter rate.
Contact this Boat About Private Tours
';return t.replace("ID",e)+a}function lazyLoadYoutubeIframe(){var e=document.createElement("iframe"),t="https://www.youtube.com/embed/ID?autoplay=1″;t+=0===this.dataset.query.length?":'&'+this.dataset.query;e.setAttribute("src",t.replace("ID",this.dataset.id)),e.setAttribute("frameborder","0″),e.setAttribute("allowfullscreen","1″),this.parentNode.replaceChild(e,this)}document.addEventListener("DOMContentLoaded",function(){var e,t,a=document.getElementsByClassName("rll-youtube-player");for(t=0;t

Source