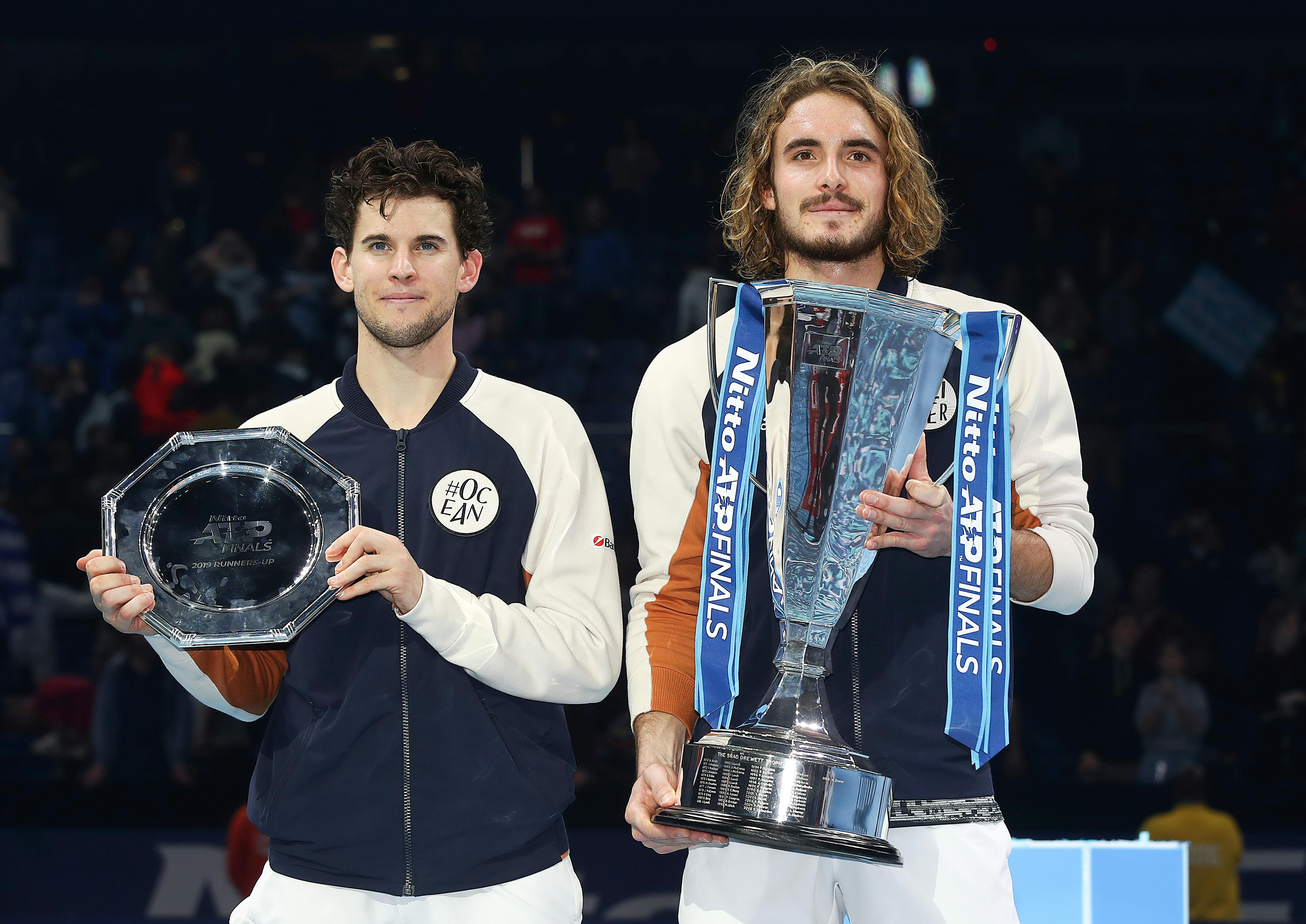 Monday 18 November 2019 – Alex Sharp
The Greek youngster edged Dominic Thiem in a sensational final to cap his stunning season in style by lifting the ATP Finals trophy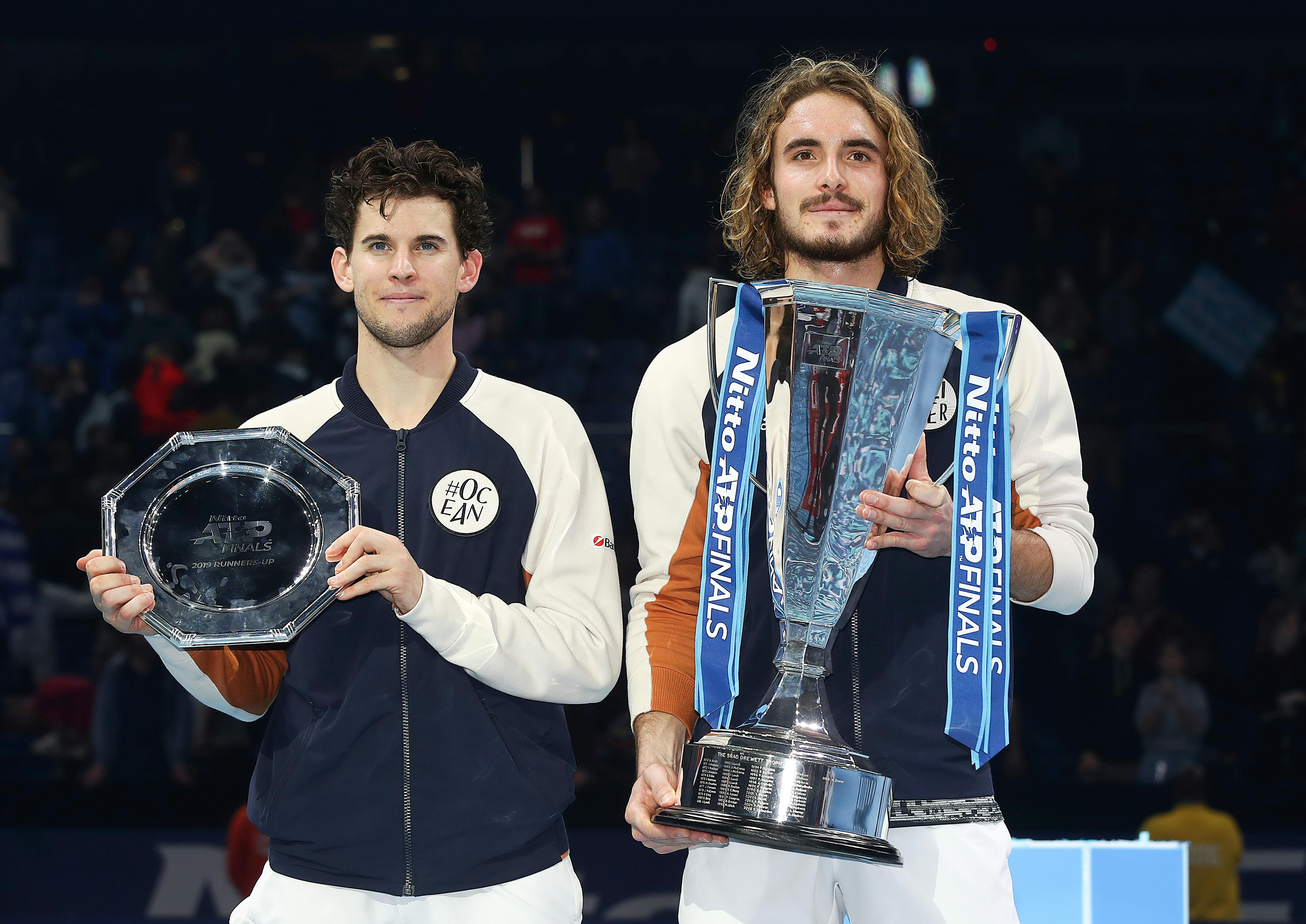 ©Julien Finney/AFP
Walking out to the trophy presentation, Stefanos Tsitsipas' jacket had a patch stitched in with 'believer' on his chest.
Since bursting onto the tennis scene in 2016, the gregarious Greek's belief has matched his remarkable results.
Following four years of enthralling entertainment and progress, Tsitsipas prevailed in the last match of the decade, lifting the ATP Finals trophy above his head through the cloud of ticker tape after an astonishing 6-7(6), 6-2, 7-6(4) tussle with Dominic Thiem.
In full circle, Thiem noticed Tsitsipas' potential at the same O2 Arena in London.
"That was the first time I met him, 2016 here, as a hitting partner," revealed Thiem. "I didn't put so much attention on it because other things to focus on.
"But even then, everybody could see where his direction goes, only up, only in absolute world class."
Tsitsipas' season finishes since are pretty significant. In 2017 he lost a Challenger final in Brest, France, before hitting as an alternate at the Next Gen ATP Finals. 12 months on he defeated Alex de Minaur to clinch the Next Gen ATP Finals title. 2019, he's beaten the 'big three' and is also the ATP Finals champion on debut.
"It feels awesome"
Winning in east London on Sunday night, the 21-year-old sent plenty of records tumbling. The whole week was majestic, having dispatched reigning champion Alexander Zverev and nemesis Daniil Medvedev in straight sets. He then pushed newly crowned world No.1 Rafael Nadal all the way in three thrilling hours, before saving 11 of 12 break points to outwit Roger Federer.
"I remember myself watching this event on TV and thinking, oh, these guys have done an insane year to be playing here. And now I'm in the position to be champion, so it feels awesome."
Prior to the final, Thiem enjoyed a 4-2 record over the Greek, including a recent final triumph in Beijing.
He was the slight favourite heading onto court, as a Roland-Garros finalist and Indian Wells winner. His coaching partnership with Nicolas Massu since March has been a revelation, which was encapsulated in scorching performances to dismantle Federer and Novak Djokovic in London.
With 2.26 on the clock in the final, all of that went out of the window and Tsitsipas rallied from 1-4 down to edge a turbulent decisive tie-break to take home the silverware.
"In very tough situations I can still play great tennis"
"It was a great match from both of us, and he really deserves that win. I mean, actually, we both deserve it, but there is only one winner in tennis," declared a very gracious Thiem.
"I'm still taking away a lot with me. First of all, I'm very proud and happy about the Finals in general. And then there are also some tough things in this week I had to deal with.
"Honestly, I woke up on Tuesday feeling really sick. And then on Tuesday I played this legendary match against Novak. So that's a big thing, that even in very tough situations I can still play great tennis.
"It's a big, big disappointment right now, but at the end, I would say, 90% positive this season."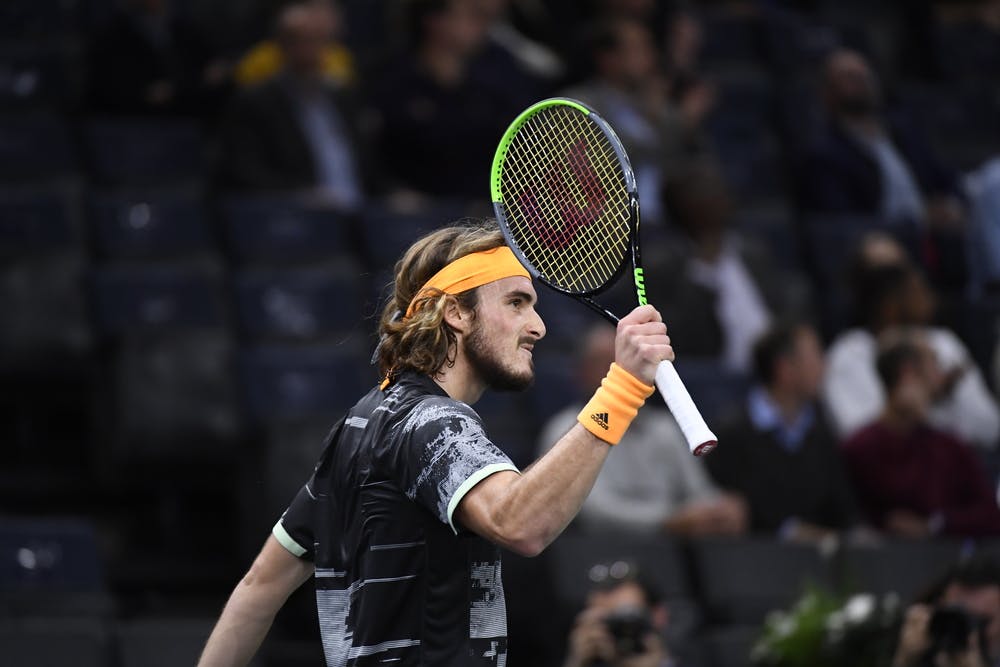 ©Philippe Montigny/FFT
Praise on the impact of Tsitsipas
The world No.4 heaped praise on the impact of Tsitsipas too.
"He played great throughout the whole tournament.
He's the champion, and he deserves it 100%," stated the 26-year-old.
"I think also that he's great for tennis, because he has a very attractive game style, one-handed backhand, comes in a lot. Very beautiful technique, as well.
"It's great that he's up on the top. It's great that he's going to fight for the big titles in the future. I'm 100% sure of that."
1988-1991 was the last time the season-ending finale welcomed four straight first-time champions. The shifts of power in the upper echelons of tennis are finally here. With Zverev winning the title in 2018 and Tsitsipas ruling London this November, the 'big three' have been sent packing.
The problem for the Next Gen is outmanoeuvring this legendary triumvirate at majors.  
"We have Big 3 dominating the Grand Slams, makes it really difficult for us, because someone needs to get job done, to defeat them in early rounds, because once they get deep in a tournament, they tend, as we saw over the years, to play better, feel better," analysed Tsitsipas.
"That's a really difficult task to do for players, to be able to beat them in these Grand Slams, because it's the best-of-five format, and it just gives them more chances to stay in the match.
"For the young guys it's all about time. We will have to beat them or wait for them."
Slight surprise
It doesn't seem like Tsitsipas will wait around too long, but the 21-year-old is eager to manage his expectations.
"The thing is if I put myself in a state of mind that I need to win this Grand Slam now, it doesn't work this way. Rafa said it in the past: I'm not playing to win the tournament; I'm playing to win every single match that I'm about to go and play," mused the Greek.
"You don't want to travel too much in the future when you play a tournament, because it's not always going to go the way you want it to go."
2019 will be a season to cherish for Tsitsipas. There was a major breakthrough in Melbourne, toppling Federer en route to the Australian Open semi-finals. He then managed to defeat the 'King of clay' Nadal on the terre battue in Madrid, alongside titles in Marseille and Estoril.
Considering the field at the ATP Finals, his title comes as a slight surprise, but Tsitsipas is adamant he is primed to make a statement on the major stage in 2020.
"I feel like my game is getting better over time, and I believe I'm really close on being crowned a Grand Slam champion. I know these are strong words that I say, but I do feel like I belong to be there," insisted Tsitsipas.
"This year was the best year I've had and I want to constantly improve. I'm competing against the best players in the world, and the amount of effort and the amount of work I put every day deserves to have an outcome like this."
For those who witnessed the 'believer' play last week in London, very few could deny Tsitsipas is ready to strike on the major stage.