A former investor behind Sydney FC and the Central Coast Mariners helped initiate the discussions that led to the complicated, convoluted proposal from a London-based blockchain-trading firm to take control of A-League premiers Perth Glory.
Real estate mogul Peter Turnbull, one of the Sky Blues' founding fathers who later served as a director with the Mariners, introduced Glory chairman Tony Sage to the London Football Exchange (LFE), which is poised to buy a majority share in the club pending approval from Football Federation Australia.
The LFE is promising to make Perth the first in a City Football Group-style suite of approximately seven clubs from around the world and use cryptocurrency to create an "ecosystem" that will enable fans to connect on a "more intimate basis" with their teams.
However, key figures at FFA, other clubs and around the game hold serious doubts over the legitimacy of their operation, sources say.
The LFE's flamboyant founder, Jim Aylward, has promised announcements will be made shortly regarding similar takeovers of an English Premier League and French Ligue 1 club, but gave only vague details as to how the transactions would actually work in a trainwreck of an interview with Perth radio station 6PR.
It was Turnbull, the LFE's head of Asia Pacific, who first connected Sage with the group two years ago and helped arrange sponsorship deals for the back of Perth's jersey last season and, prior to that, their friendly against Chelsea in mid-2018.
Peter Turnbull is the only A-League owner to have won titles at two different clubs – Sydney FC and the Central Coast Mariners.Credit:Louie Douvis
"I advised them on football matters, but I'm not too informed on the crypto," Turnbull told the Herald. "After running Sydney and the Mariners I can see how new technologies are required, because the A-League's going to be losing money for the next four or five years."
Sources in the west suggest the Glory did not receive any money for the jersey sponsorship from the LFE.
Meanwhile, Aylward claims the LFE could tie up a deal with French outfit FC Nantes – despite a failed attempt nearly two years ago that collapsed when the club's owner said the group's "seriousness and credibility" could not be guaranteed after their failure to provide the required bank guarantees.
"There are a lot more
interesting things to that story," Aylward told 6PR. "FC Nantes is a club we will be revisiting … keep your eyes out, because now that I've completed with Perth I'll be looking to get Nantes wrapped up as my next deal."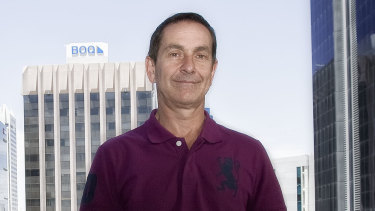 Perth Glory chairman Tony Sage will stay on at the helm of both the club and the London Football Exchange after the sale.Credit:Tony McDonough
A self-styled "disruptor" of the football industry who has previously told the LFE's "haters" they would be proven wrong, Aylward said FFA had already approved the funds they'd put forward for the Glory purchase – although FFA could not confirm that late on Thursday.
"They're happy with how this deal has been funded – however, that could be a mix of debt, forward-selling of a football club's season ticket receivables, equity. I'm not putting my hand in my pocket and using LFE cash to do that … it's a combination," he said.
"If you understand the process FFA work under, I can't go into them and say, 'Yeah, I'm buying this club' and not show working capital requirements to take that club forward."
Loading
Alyward said LFE's valuation of Perth Glory would be divulged once the sale is complete. He also dismissed concerns of a conflict of interest regarding Sage, who was last month named chairman of the LFE and intends to stay on as Glory chairman.
"Do you not think that's a beautiful thing?" he said. "This guy spent 13 years at a football club, he's taken it from zero to hero. Now because he can see massive investment coming through … he's retaining 20 per cent so all the fans know he's still there, he's not just dropping them in the ocean. That's a good thing, surely."
Glory chief executive Tony Pignata denied that Aylward was a "dodgy" character. "I trust Tony. He loves Perth Glory more than his family … and he wouldn't do anything to jeopardise the club," Pignata said.
Vince is a sports reporter for The Sydney Morning Herald.
Most Viewed in Sport
Loading