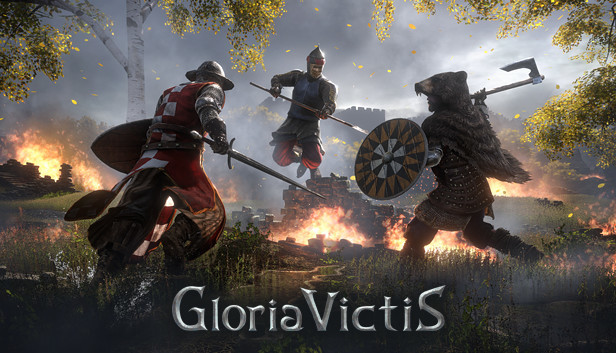 "2 years after getting Greenlit, thanks to the intensive full-time work of our team, Gloria Victis finally moved to Steam Early Access. We have waited with launch until now to make sure the game will be polished enough to meet your expectations. However, we know that we can achieve a lot more together, so we encourage the players to discuss the game and its core features, as well as the recent progress and future development plans.
Early Access gives us an invaluable chance to increase the development pace and make sure that the final game will be polished as much as possible. Thank you very much for your priceless support and giving us a chance to bring our dream to life!
DISCLAIMERPlease remember that the game is currently in alpha stage and you may experience some issues or some of the features may not be implemented yet. We recommend supporting us only if you want to help us develop the game!"
"Thanks to the Steam release we will hopefully be able to expand the development team and release the complete game as soon as possible."
"While in Early Access you receive a solid foundation of what Gloria Victis is and will be, some of the awesome features (in big part designed in co-operation with our Community!) are still being under development and will be implemented in future updates. Our plans for future development include:
– Replacing the character's model and hiring the motion capture studio to rework animations, particular for combat [DONE]
– Implementation of the playable female characters [DONE]
– Continuous increasing of the servers capability, until there is only a single server per supported region of the world (since then you can freely switch between current servers) [DONE]
– Implementation of siege engines [DONE]
– Implementation of new playable faction [DONE]
– Implementation of dynamic events dynamically changing the world according to the players' actions [DONE]
– Developing the available world [DONE]
– Numerous minor features, including fishing, gambling and emotes [MOSTLY DONE]
– Implementation of mounts and mounted combat [DONE]
– Implementations of sailing and naval combat
– Implementation of housing system"
"Early Access of Gloria Victis includes most of the core features planned for the final release. Some of them are still being discussed with our Community, improved or developed.
Non-Target Combat – Engage in action-based, non-target combat where your skills and tactics matter! Prove your skills and earn fame as an undefeatable duelist, eagle-eyed archer or respected commander inspiring your allies in battle! With the income from Early Access we are going to greatly improve the animations and overall combat experience, as well as to implement
mounts and siege engines.
Open PVP
– Fight to the death in tournaments, towns and castles sieges and epic wars where entire armies collide!
Territory Control
– Conquer the lands, siege non-instantiated towns and castles and develop fortifications to earn an advantage in the everlasting conflict of the realms! In future the player guilds will be able to control and develop towns and castles with surrounding keeps, farms and mines, to forge alliances and declare wars to the other guilds.
Innovative Partial Loot System
– Defeated your enemy? Take your reward, selecting which specific items you would like to loot – but hurry, the clock is ticking!
Fame and Disgrace
– Be a part of a living feudal society, establish your reputation and move up the feudal hierarchy, leading your allies to victory under your guild's banner – or run and hide as an outlaw! In the final version you will even get a chance to become the ruler of your nation or the public enemy.
Complex Crafting System
– Look for the best resources and materials, use crafting workstations and co-operate with others to increase your efficiency and achieve mastery in one of 8 different realistic crafts. The economy is in your hands – swords don't drop from wolves but are forged by the blacksmiths!
Class-less Progression
– Become who you want to be, shaping your character without artificial classes and fully customizing your equipment using hundreds of available items! Thanks to income from Early Access we will be able to add playable female characters!
Open Living World
– Seamless, breathtaking, unpleasant, dynamically reacting to your actions – the diversified and overwhelming world of Gloria Victis awaits you!
Low-fantasy Setting
– Explore the lands based upon medieval Europe and Middle-East, discover ancient secrets, seek for forgotten treasures and face creatures designed after medieval tales!"
"No, since the price is calculated to cover the costs of the constant development of Gloria Victis, upkeep the servers and supporting the game after release. If a free-to-play option ever becomes viable and necessary for us — which will be something that may only happen long after the official release — we will make sure that the players who bought the game for the original price will receive much more than what they paid for."
"We are continuously looking for insightful feedback and brilliant ideas from our Community, often discussing them and applying the best ones to the game. We also invite the most active players to check the latest features and changes during internal tests before they are released in the official updates."