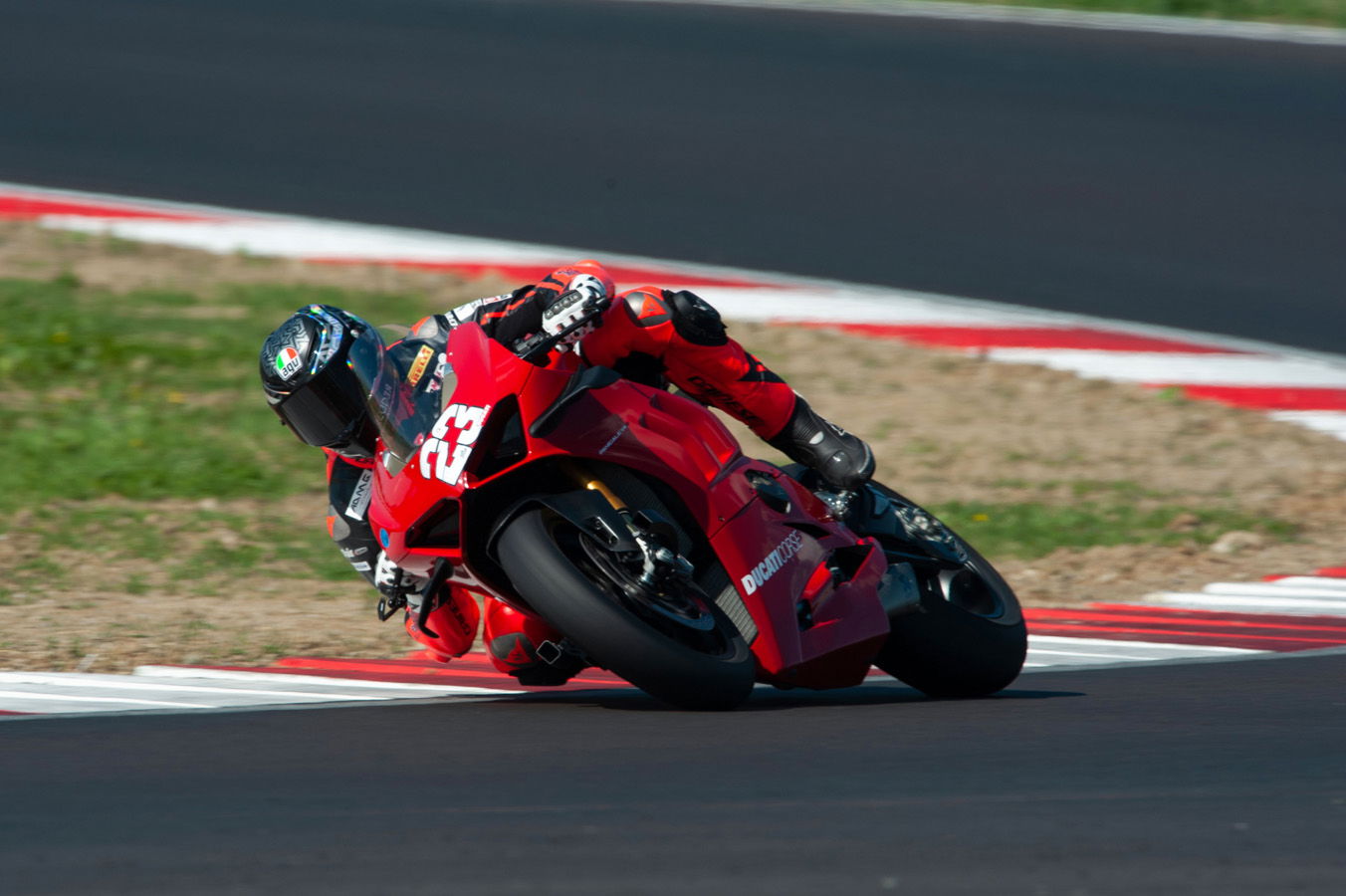 In the most recent round of the MotoEstate Trophy (a popular amateur trophy in Italy) at Cremona, Luca Salvadori jumped on a stock Ducati V4 S to conquer pole position in qualifying, setting a new MotoEstate Trophy record for the Cremona circuit at 1:31.945, and go on to win the race against superbike spec bikes.
If a YouTuber can win at Cremona on a stock Panigale V4 S – and set a qualifying record in the process – then you can too….
Top 10 Sportsbikes for 2021
Well, in fairness Luca Salvadori may be a 'YouTuber' but the Italian is still an extremely capable rider in his own right.
Racing against superbike spec machines over the weekend in the 'Open Class' – even including some other Ducatis – Salvadori came out on top against main rival Fabrizio Perotti, a popular and fast Italian rider riding a top-spec Aprilia RSV4.
Ducati Panigale V4 S racing setup at Cremona
Equipped with only a Ducati Performance racing exhaust system, Pirelli slick tyres, and
racing brake pads, the V4 S was otherwise entirely stock and completed a perfect weekend at the circuit. Great news for Ducati, but adds some pressure for anyone taking a V4 S to a local track day…
As a production machine, Luca was racing with electronic suspension and the 'cornering only front racing' setup for the ABS – the Panigale V4 is the only bike in the world to have this option.
With the Desmosedici Stradale V4 producing 214bhp @ 13,000 rpm & 124Nm of torque @ 10,000 rpm, fitted with the Akrapovic x Ducati racing exhaust this boosts power by around 6% up to 226 bhp & 131 Nm. 
On race day over the 13 laps, Salvadori finished in first place with the fastest lap of 1:32.492, with Perotti setting a fastest lap just 0.181 behind, at 1:32.673.
Salvadori's 1:31.945 qualifying lap is the new record at Cremona, modified over winter with a totally revised end section, and extended from 3.45 km to 3.7 km.
All in all, incredible stuff for Ducati and the Panigale V4 S.