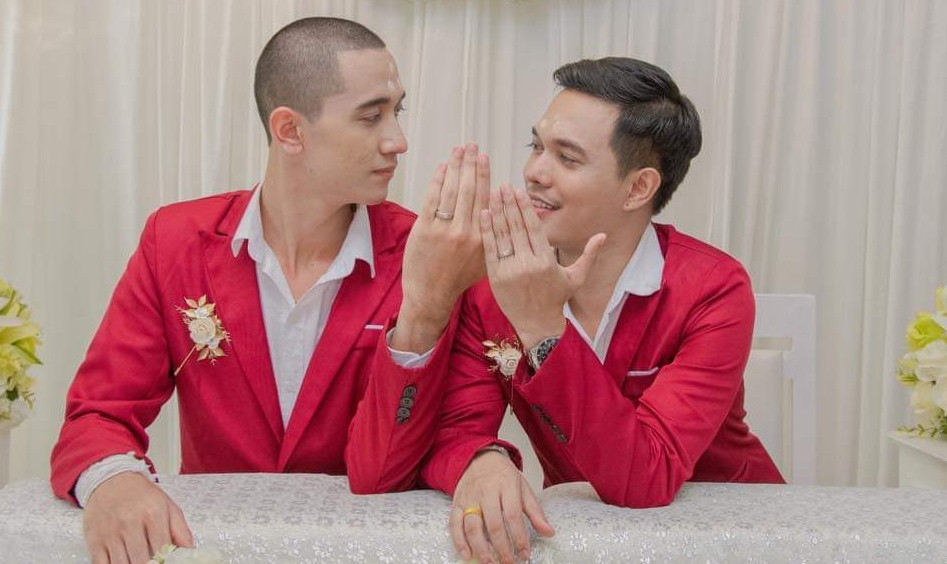 Twenty-nine-year-old Jasmine, who asked to use a pseudonym to protect her privacy, moved to northern Thailand last year to be with her boyfriend, a 60-year-old American. As a trans woman, Jasmine, feared coming back to Indonesia after suffering bullying from her peers while growing up.
"My friends called me banci or bencong [a slur akin to 'tranny']. As a kid, I always felt unworthy and [this name-calling] has left lifetime trauma," said Jasmine, who was born and raised in Sukabumi, West Java.
Determined to find a new life, Jasmine studied hard and landed a job in Abu Dhabi as a hotelier. There, she met her boyfriend online and moved to Thailand in March last year – just before the COVID-19 pandemic hit – so they could be together. Jasmine says she feels safe and accepted by the Thais – despite the language barrier.
Jasmine, who volunteers at a local foundation and has obtained a visa, is aware of the hatefulness of Indonesian internet users especially toward members of the lesbian, gay, bisexual and transgender (LGBT) community. She cited a fellow trans woman with a huge following on Instagram who regularly faces transphobic comments, as an example.
What Jasmine did not anticipate was how those vile comments could reach the Thai cyber community, as shown by a recent online attack on Bangkok-based Suriya Kertsang, 28, who posted pictures of a commitment ceremony between him and his partner, 24-year-old Suriya Manusonth, on his Facebook account.
"I'm even more scared after reading the news [about the Thai gay couple]. I don't want to return to Indonesia. The situation is getting worse," she said.
The homophobic online attack on Kertsang's Facebook account started last week. Kertsang finally addressed the situation in a public Facebook post on April 12, following what he said was a "non-stop [three] consecutive days and nights" of "insults" and "threats" from "Indonesians." Later, he also set his Instagram account to private after the hateful comments reached his posts there as well.
In an exclusive interview with The Jakarta Post on Thursday, Kertsang said the attacks had taken a toll on his and his partner's mental health. The attacks did not stop at negative comments and insults but also took the form of threats toward their family and friends. At one point, him and his partner Manusonth received death threats.
"We received a horrible video clip of a third-gender person's throat being slit in their country," said Kertsang, who used a Thai word for gender entities that are neither male nor female.
Kertsang went on to say that many Indonesians have cursed him and Manusonth, in the name of religion. He found this particularly odd because both him and his partner are not from Indonesia and, as Thais, hold different beliefs than the Indonesians.
"[This shows that] Thai people respect each other regardless of gender and sexual orientation. We [my partner and I] never feel discriminated against [by the Thais]," he added.
The Post reached Kertsang via LINE, a messenger app popular in Thailand. He submitted his answers in Thai and they were translated by Chitsanupong Nithiwana, founder of Young Pride Club and Chiang Mai Pride.
Thailand is the only ASEAN country where sexual and gender minorities tend to be openly tolerated, especially in urban areas. While same-sex marriages and civil partnerships remain unrecognized by Thai law, wedding or commitment ceremonies are common – as Kertsang and Manusonth celebrated recently.
A Thai civil partnership bill is being discussed by the Thai parliament. Last year, another bill, this time aiming to legalize same-sex marriage, was introduced by the progressive opposition Move Forward Party.
Kertsang and Manusonth's experience mirrored what happened to 38-year-old Soelis and his partner Made, 27, who live in Bali. In 2018, they faced homophobic comments after posting a picture of themselves with their friends wearing traditional clothes on Instagram. It was not a wedding picture but it did not stop many Indonesian internet users from labeling it as such.
"We were shocked. We thought about our parents. They accept us but they are not ready to face such comments," said Soelis, who have asked for both him and his partner to be identified by their given names only.
Dede Oetomo, a sociologist from the University of Airlangga, said the introduction of the civil partnership bill in the Thai parliament was initially expected to have a positive impact on neighboring ASEAN countries such as Indonesia.
"The online attack toward the Thai gay couple proves the expectation wrong," he said.
Dede added that many politicians and clerics in Indonesia promoted intolerance in speeches.
"These people feel safe to express their hatred online because in cyberspace they can hide behind anonymity," he said.
As a gay man, Nicky Suwandi, 36, an Indonesian who lives in Bangkok and works for the Asia Pacific Coalition on Male Sexual Health, believes his Thai friends will not put him in the same box as the many homophobic Indonesians on social media.
"However, I'm still ashamed to introduce myself as an Indonesian whenever I meet Thai people, because my people have hurt their people," said Nicky.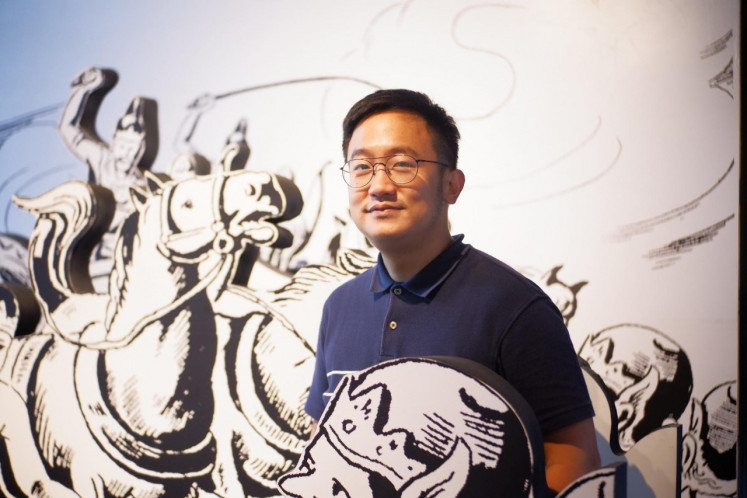 Nicky Suwandi, 36, an Indonesian who lives in Bangkok, said his Thai friends were not homophobic like many Indonesians, especially on social media.
(JP/Courtesy of Nicky Suwandi)
Patricia Wattimena, an Indonesian who lives in Chiang Mai said Thailand provided a far more welcoming environment for minorities of all kinds – not only sexual but religious minorities as well – in comparison to her homeland. 
"I've been in Thailand for more than five years and despite the different cultures we have, I have never experienced in any way this kind of coercive thinking or measures toward what I believe in. Nobody cares about the religion I belong to. How we treat each other is always grounded on respect. It is as simple as that."
After suffering online abuse from many Indonesians himself, Kertsang said that, as a fellow gay man, he was worried about the safety and the mental health of the Indonesian LGBT community.  
"I sincerely wish that the LGBTQ+ people in Indonesia could receive equal treatment like us [the Thais]," said Kertsang.