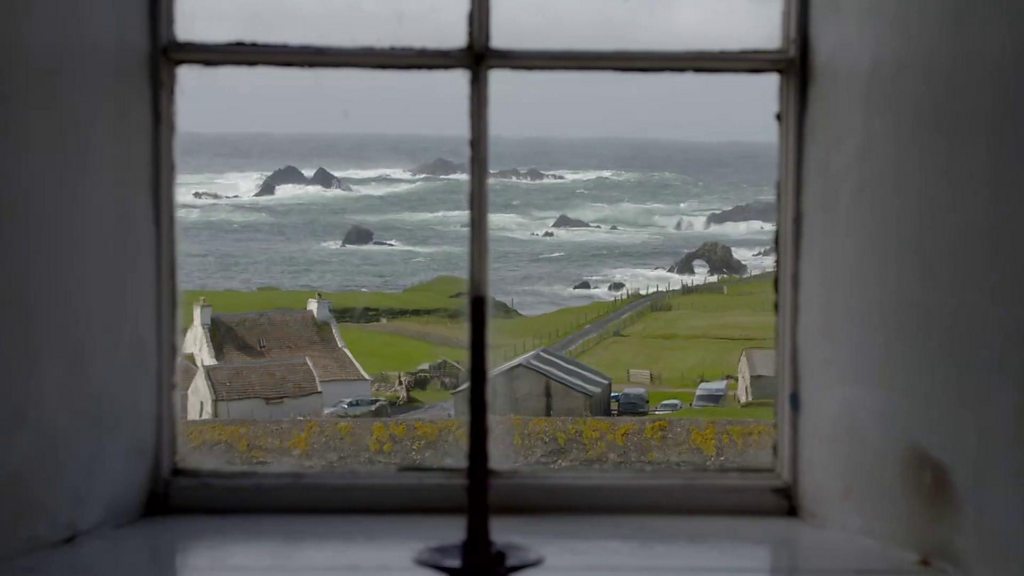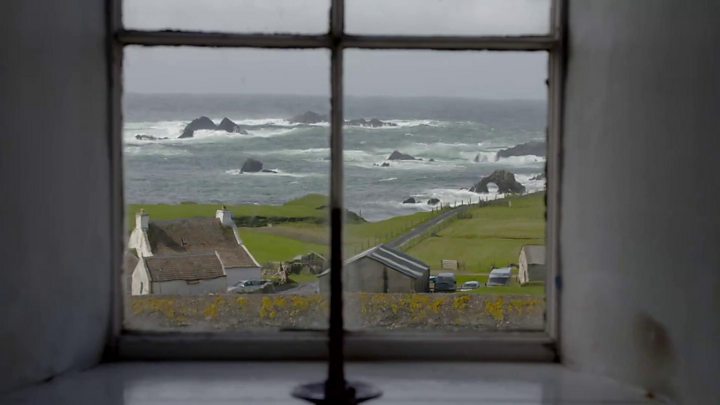 Media playback is unsupported on your device
Media captionFor the first time in it the island's history, Fair Isle residents can enjoy 24-hour electricity
Fair Isle, the remote island half way between Orkney and Shetland, is famed for its knitwear, migratory birds and, of course, its place in the shipping forecast.
Now, for the first time in its history, Britain's most remote community will also have a reliable electricity supply 24 hours a day.
The island, which is three miles long and one and a half miles wide, has a population of just 55.
Since the 1980s, power has come from a combination of wind turbines and a diesel generator, with no way of storing electricity.
And until now when there was no wind it was lights out between 11.30pm and 7.30am.
Image caption
Fair Isle is one of the UK's most remote islands
But now the island, which is owned by the National Trust for Scotland, has a £3.5m renewable energy scheme made up of three turbines, along with solar panels and batteries that can store enough for about a day's supply.
The ribbon on the new scheme will be cut by local schoolchildren because Scottish government minister Paul Wheelhouse could not make it because of the weather.
Image caption
Three wind turbines are part of the new renewable energy scheme
Image caption
Solar panels have also been set up as part of the project
Image caption
Storage batteries can hold power created by the turbines and solar panels
Robert Mitchell, director of the Fair Isle Electricity Company, said: "It's a big day for the island, we've got our electricity project up and running and we're now going to be in the 21st century."
Mr Mitchell said he hoped it would encourage more people to come to live on the island.
He said there had previously been no point building new houses because there was no capacity for extra power.
Image caption
Marie Bruhat and Thomas Fisher met when he was installing the wind turbines
One immediate new resident is Thomas Fisher, from Aberdeenshire, who came as a contractor working on installing the turbines and found romance.
Thomas Fisher met his girlfriend Marie Bruhat playing darts in the community hall.
She moved to the island from France 18 months ago to work with knitwear designer Mati Ventrillon.
Marie said: "I'm quite happy it has worked well, that was the plan when I moved to Fair Isle, to meet someone who'd fallen in love with the island."
Image caption
Eileen Thomson with her partner Guillermo Rotolo and their children Luca and Ander
Eileen Thomson, who grew up in Fair Isle, is another recent addition to the island having moved back last year with her partner Guilermo, from Argentina, and their young family.
She said the new energy scheme was really important because until now everyone had to be very careful with power consumption.
"You have to concentrate if you are firing on the washing machine and dishwasher altogether and ask 'is there enough
power to do that?'," she said.
"So for us it's going to make it a lot more easy.
"I think also we are really hoping more young families move to island because the population is getting older."
Image caption
Fair Isle is a bird watcher's paradise
Fair Isle has been owned by the National Trust for Scotland since 1954.
It describes the island as a birdwatcher's paradise and it is one of the best places in Europe to see rare birds that stop off for a rest and feed along their migration routes in spring and summer.
Image copyright
Fair Isle bird observatory
Image caption
Fair Isle Bird Observatory (pictured in the background) records migration patterns
The island also has a long history of famous knitwear.
Mati Ventrillon, a French-Venezuelan designer, has been working on Fair Isle for more than a decade.
Image caption
Mati Ventrillon knits and sells bespoke Fair Isle sweaters
She knits and sells bespoke Fair Isle sweaters, continuing a tradition passed on by generations before her but also changing the shape and design of garments to reach a new market.
She said: "I think having electricity 24 hours a day will allow us to speed up the manufacturing process overnight and help us to expand the business."
Image caption
Mati Ventrillon uses traditional Fair Isle knitting patterns but reaches new markets
Almost half the cost of the Fair Isle project was met by the Scottish government, with the rest coming from sources such as Highlands and Islands Enterprise, the Big Lottery, which contributed £1m, Shetland Islands Council, the National Trust for Scotland and Scottish Water.
Minister for Energy, Connectivity and the Islands, Paul Wheelhouse, said: "Those of us living on the mainland of Scotland can often take reliable supplies of electricity for granted.
"This has never been possible for islanders of Fair Isle."
"The reality of having, for the first time in their history, 24-hour supplies of electricity presents exciting prospects for the Fair Isle community."
Canna in the inner Hebrides, which is also owned by the National Trust for Scotland, is in a similar situation, relying on power from a generator to supply its population of 67.
It too hopes to switch on its own renewable scheme soon.
Image caption
John Best is one of the island's oldest residents
At 82, John Best is one of the oldest residents of the island.
For him the new power scheme is all about the future of the islands and its inhabitants.
He said: "The real aim is to provide a good electricity service for 10 years down the line when the new young people that are coming in will benefit from it and it'll be what they need."
With more people interested in moving to Fair Isle a bright future lies ahead in more ways than one.