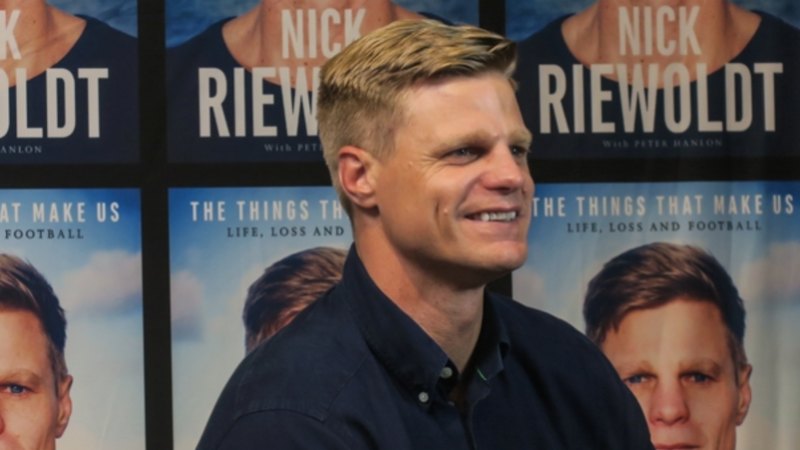 Nick Riewoldt is congratulated by his mother at his book launch.Credit:Leigh Henningham
The Things That Make Us is a great read and so much more than a football story. Only a handful of footballers since the start of the millennium have been as famous and as loved as Riewoldt, but few have been prepared to open themselves up as he has.
He is so generous with his readers and so harsh upon himself at times you wonder whether this has been a form of therapy for him after such a shocking family tragedy navigated so often in the public eye.
The loss of his beloved sister Maddie looms large and he makes no bones about how difficult she could be at times, along with the personality change brought on by a childhood accident, but there is so much more besides.
Riewoldt's mother Fiona, one of the true heroes of his life story and certainly this book, confessed at Monday's launch that there are sections she remains unable to read and certainly it is unbearably sad at times. Ditto his brother Alex, whose life in his elder brother's shadow is scrutinised by Nick with an equal mixture of guilt, love and appreciation.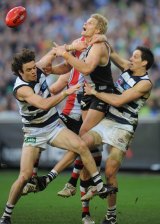 Nick Riewoldt contests a mark in the 2009 grand final.Credit:Vince Caligiuri
And there is more guilt. As with his mixed feelings surrounding Jack on grand final day, nothing is black and white with Riewoldt as he explores his fascinating family history, his own life, his career and his behaviour at crucial points. There was the period over 2005-2006 when his dedication to his own game, vanity and personal ambition saw him frankly become a bit of a pain in the neck to be around – an issue addressed with little diplomacy by teammate Matt "Goose" Maguire during an end-of-season trip in Hawaii. "I didn't stray for long," says Riewoldt.
He admits he was a bad friend for a long time, too, but frankly is a little too easy on Ricky Nixon while admitting they have no relationship now. An anecdote relating how Nixon turned up at his doorstop after a long period of no contact looking for Riewoldt to sign some jumpers says it all.
Coach Scott Watters is damned by only two brief mentions in the book, one an anecdote involving a mean-spirited text message after Watters was sacked by the Saints. Grant Thomas and Ross Lyon are explored in far greater depth along with how Riewoldt navigated the difficult transition between the two.
His teammates over close to two decades are largely lauded with notable exceptions. Clearly Rhys Stanley tested Riewoldt's patience as the captain tried everything to make him the player the Saints thought he should have been. Riewoldt's own mental battles did not come about due to Maddie's death alone but his honest appraisal of his constant anxiety, his dreadful fears for family and close friends every time he left them and the debilitating panic attacks make you wonder how he managed such an impressive playing career twilight. He says he sought professional help and also credits the ongoing support of the South African Pastor Sean from the
Brighton Baptist Church whom Maddie brought into the family. His description of the concussion he suffered in Adelaide in 2015 and learning all over again that Maddie had died is heartbreaking. No wonder his beloved Catherine – the beautiful Texan he met on a footy trip on Vegas – wanted him to retire then and there. Catherine – along with Maddie – appears to have been the catalyst for his reintroduction to religion and it was wife and mother Catherine who wanted to ensure the anxiety Riewoldt suffered for a while every time he left home for the football club is not inherited by their children.
An entire chapter is dedicated to St Kilda and scandal and yet the Mad Monday burning dwarf incident is omitted completely. Reportedly it proved one of the more tougher assignments to make sense of on paper and for everyone's sake it seemed better to leave it out. But its omission is disappointing. Still, the impression is that only a few memories or pieces of family history were too difficult, too painful or too personal to put into this story. And yet Riewoldt's stubborn pride comes through when he describes being forced to perform a mea culpa in front of the entire team for a post-game outburst at a staffer overseeing a fan-engagement exercise involving player selfies. Riewoldt could not see beyond his frustration at a poor performance.
If Catherine and their fascinating international courtship – heavily influenced by family on both sides of the world – is Riewoldt's great love story then St Kilda is right up there. Along with his two boys, his immediate family, Orford, Tasmania, and his Tasmanian and German roots.
He makes no bones about the ones that got away from his Saints. The 2009 Tom Hawkins goal that wasn't and later forced a rule change and then the draw and the final siren that sounded when his team had all the momentum. "How very St Kilda," observes Riewoldt, pointing out that the AFL changed that rule also; making it clear that his side would probably have won in extra time.
The Things That Make Us was written with the former long-time Fairfax journalist Peter Hanlon, whom Riewoldt says began as a ghost writer and ended up a friend. Having worked for years alongside "Tommy" Hanlon I'm not surprised at that but after reading the book I can see it from the other side as well.
Another reader who just finished the Nick Riewoldt story commented this week that even though the champion footballer gave so much of himself as a player they now feel as though they know him, or at least know him a lot better. You could not say that about a number of recent AFL player offerings.
And where an autobiography is concerned you can't ask for much more than that.
Caroline Wilson is a Walkley award-winning columnist and former chief football writer for The Age.
Most Viewed in Sport
Loading