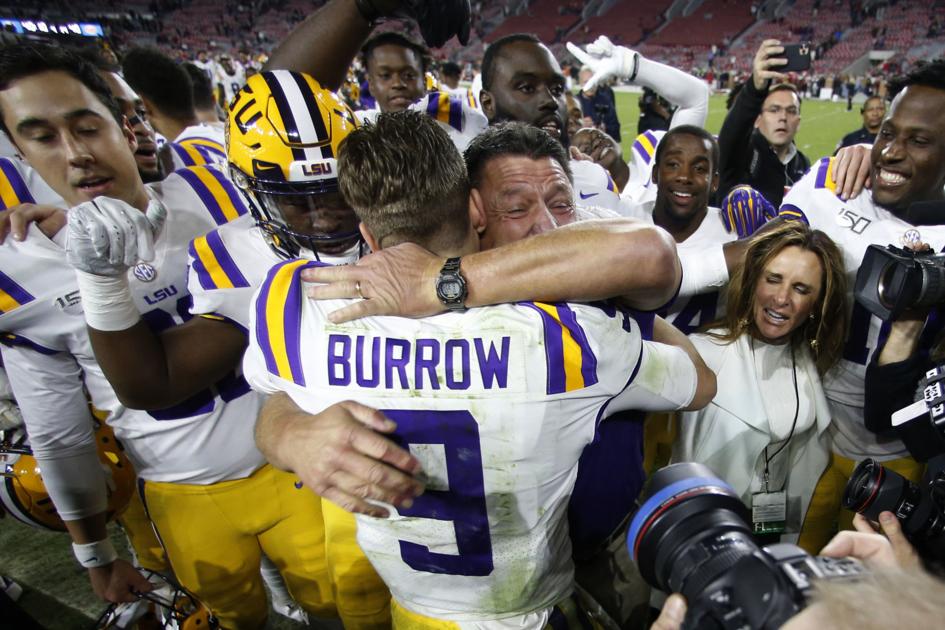 Pulitzer Prize winner Jeffrey Marx is the author of "Walking with Tigers: A Collection of LSU Sports Stories" and five other books. You can follow him on Twitter: @LSUTigersBook. 
This is the first in a three-part series.
____
The 2019 Heisman Trophy presentation is playing on television again. Actually, it is playing on all 125 TVs in the dazzling LSU Football Operations Center. Thanks to a high-tech combination of digital equipment and internet wizardry, Joe Burrow "live" from New York is only a few computer clicks away whenever LSU staffers want to share him throughout the building.
This time Heisman Joe is playing on TV one morning back in the good old days of life as we knew it — just a few days before the start of spring football practice and no clue that almost everything on campus would soon be shut down by the coronavirus. This is the first Wednesday of last month. 
It could just as easily be any day stretching years and even decades into the future, though, because Joe's acceptance speech will never really go away. Part of its power comes simply from its place in program history: Sixty years after Billy Cannon won the school's first Heisman, LSU finally got another one.
But that is only a starting point. The true power and beauty — the transcendent power and beauty — comes from the raw humanity Joe unveils as 24 previous Heisman winners grace the PlayStation Theater stage behind him and 11 ESPN cameras take it all in: the tender words Joe chooses, the humility and vulnerability with which he delivers them, the bottled-up emotion pouring out of a tough-to-crack young man never known to display unfiltered feelings.
"Stoic" is one of the first words his mom uses to describe him. "Pretty even keel," Robin Burrow says. "Very even keel, really, as far as emotions go."
And now, approaching the end of his almost-seven-minute speech, speaking straight from the heart — no prepared text, just a few scribbled notes — Joe is about to address his head coach.
Ed Orgeron is seated in the front row. His arms are crossed over an open jacket and purple tie. His wife, Kelly, sits on one side of him. Joe's dad, Jimmy Burrow, sits on the other.
Joe pauses and tries to steady himself.
"Coach O," he says.
But no more words will come. Not yet.
Joe bites his bottom lip. He looks at Coach O and nods — slowly and slightly. His eyes are red and starting to leak. Joe looks down, sniffs, and then uses his left thumb to wipe his left eye.
"Take your time," one of the old Heisman winners calls out in support.
Joe takes in a deep breath and exhales with audible force. Looking up again, he blinks a few times.
Then — after 14 seconds with no words — he is finally ready to continue.
Eyes locking in on Coach O, voice weak and then breaking, Joe starts with this: "You have no idea what you mean to my family."
There is more to come from Joe. There is much to see in the way Coach O absorbs it and responds in kind, without speaking, but with waves of emotion washing over him as well — his facial expressions and body language virtually screaming that the feelings are reciprocal.
Anyone with a beating heart can see how much these two men mean to each other.
One is 58 years old. The other is 23.
One is a gumbo-loving Cajun from down the bayou in Lafourche Parish, Louisiana. The other was born in Iowa and grew up in Ohio.
One has three grown children. The other still loves cartoons and wore SpongeBob SquarePants socks to the Heisman ceremony.
But now they are forever linked: Heisman Joe and Coach O.
What we see in them is not only a shared narrative of dedication and determination … of sacrifice and success … of grit and glory. We are also witnessing a football love story.
How would we have known? How could we have?
With only two seasons together — well short of two calendar years — how did their relationship even get to this point?
Sometimes we need to see the beginning to allow for any clarity at the end.
When they first met — the Friday evening of May 11, 2018 — neither was exactly shining in the world of college football.
Coach O was coming off his first full season as head coach at LSU. The Tigers had finished 9-4 including an ugly homecoming loss to three-touchdown underdog Troy of the Sun Belt Conference. Plenty of pundits were predicting more disappointment for the 2018 Tigers. Coach O was on the proverbial hot seat, and the most negative naysayers insisted he would soon be out of a job: Tigers go 6-6, and he's gone.
Joe Burrow, meanwhile, could have walked the streets of Baton Rouge, the streets of pretty much anywhere outside Ohio, without anyone even knowing or caring who he was. Sure, as a small-town star at Athens High School, he had been Mr. Football and Gatorade Player of the Year in his home state. But then came three years with little playing time at Ohio State. Stuck behind NFL quarterbacks-to-be Cardale Jones and J.T. Barrett, Joe played only briefly in 10 games and threw a total of 39 passes. Dwayne Haskins, now with the Washington Redskins, then beat him out to be the next starting quarterback — and Joe decided it was time to try somewhere else. Having already earned a bachelor's degree in consumer and family financial services, he could play two more years of college football as a graduate transfer.
Joe did not want to waste time once he decided to leave. Close to two dozen schools expressed interest, but two options quickly shot to the top of his list. One was Cincinnati, where he knew the head coach, Luke Fickell, from time they had spent together at Ohio State (Fickell as defensive coordinator). The other was LSU, where safeties coach Bill Busch had two connections to the Burrow family. One of Joe's brothers, Dan, had long before played for him at Nebraska. And Busch was an Ohio State assistant when Joe was a freshman there.  
After a flurry of phone calls — and with quarterback Danny Etling having just completed his time at LSU — Joe Burrow and family headed to Baton Rouge for a recruiting visit. Joe's parents flew with him from Ohio. Dan, who lives in Houston, drove in from Texas to join them. This was Mother's Day weekend — and Kelly Orgeron was not happy about giving up precious time with her family for a last-minute, unexpected recruiting effort.
"Seriously?" she said to her husband.
One of their three sons, Tyler, would graduate from LSU at 1:00 p.m. that Saturday. Then the whole family was supposed to leave town for the rest of the weekend — a rare occasion for some private time together. Of course, Kelly was well familiar with the constant demands and unpredictability that came with marriage to a big-time college coach. But she was nonetheless aggravated.
Coach O tried to tell her about this Burrow guy — things he had heard about him and seen on video.
All Kelly could process was that they were canceling plans because of one kid.
"He better be good," Kelly said.
"Oh, he is," Coach O said.
_____
 Dan was more excited than anyone about the weekend. Fourteen years removed from playing college football, then 36 and in medical-equipment sales with Stryker, he still loved watching the game — and he happened to be an LSU fan. His best friend in Houston was an LSU alum, so he had long before been pulled into following the Tigers. Dan had even been to a game in Death Valley — screaming and celebrating right along with the locals as LSU defeated then-reigning Heisman winner Johnny Manziel and his ninth-ranked Texas A&M Aggies in late 2013. Plus, Coach O was one of his favorite coaches. When Dan first heard him as a guest on the popular Pardon My Take podcast, telling stories and cutting loose with co-hosts Big Cat and PFT Commenter, he thought the fiery Cajun just might be the coolest guy in all of sports.
The recruiting weekend started with Friday dinner at Texas de Brazil steakhouse in Perkins Rowe. The LSU contingent included Coach O and Kelly; offensive coordinator Steve Ensminger and his wife, Amy; tight end Foster Moreau, the designated player-host; and a few others.
Dan was the first Burrow there — the others would soon be arriving from the airport — and he could hardly believe he was walking straight into some up-close-and-personal time with Coach O.
"Nice to meet you," Dan said. "I really enjoy you on Pardon My Take."
"Oh, you like that?" Coach O said. "We just did another one."
It was a comfortable icebreaker. And the conversation took off from there. Dan's first impressions of Coach O were exactly what he expected: Intense. Energetic. Fired up! But he quickly saw below the surface and made a few other conclusions about Coach O: Warm-hearted. Kind. Truly wants the best for everybody around him. As Dan would later recall, "The more we talked, the more his stock kept rising."
The evening turned out to be pleasant enough for both the Burrows and the LSU folks. Yet the getting-to-know-you nature of it also yielded moments when the conversation understandably lacked the flow of familiarity. Part of it was standard stuff for the beginning of a recruiting relationship. Part of it was just Joe being Joe — never too open around strangers — compounded by the stress of facing perhaps the biggest decision of his young life.
"Joe, as a person, he's kind of closed, kind of like recluse, unless he really knows you," Moreau says. "Plus, this is a scary time for him … a really important transitional period. So he's definitely on his toes.
"There was just a general feeling of awkwardness — because Joe didn't really talk. A lot of the time was spent just talking to Joe's dad. I mean, Joe wasn't really an active participant in the conversation. He just kind of listened."
After dinner, Joe left with Moreau, and they headed toward his off-campus condo in Highland Village II, both of them wanting to relax for a while before checking out a few night spots.
Soon after leaving Perkins Rowe — player-to-player without anyone else for the first time — Joe asked for honest insight: "All right, man, give me the lowdown. What's up with this place?"
Moreau spoke glowingly about Coach O. He offered an encouraging overall assessment of the team: loaded with talent, great group of guys, good things happening. And he specifically addressed the quarterback situation: "Look, they wouldn't be recruiting you here if they didn't want to give you a real chance of winning the starting job."
It was a key issue. Joe knew he would start if he went to Cincinnati. Coach O was promising only an opportunity to earn the job at LSU. He would have to compete for it with a trio of returners — Myles Brennan, Justin McMillan, and Lowell Narcisse — and Joe was not the most confident he had ever been. As he now says: "I was kind of doubting my abilities a little bit, because I hadn't played in so long."        
There was another major issue. Was LSU actually — finally — going to open up its offense and throw the football more? Coaches from other schools were asking Joe why he would even consider going to LSU when all he'd be doing is handing off the ball in a run-heavy offense.
The conversation continued in Moreau's living room.
Joe kept expressing his concerns.
Moreau kept trying to reassure him.
"Look, dude, I think you come in here and you walk into a quarterback competition," he told Joe. "But you show your competitive side. You ball out. And the coaches are rooting for you. You're the new guy … the new toy. Everyone wants to see what you can do, right? So I think you win the job."
And about the offense in which they would both be playing key roles: "I think we want to throw the ball. I think we end up throwing it a lot — you end up throwing it a lot."
Joe took it all in. He liked Moreau and wanted to believe him. He even saw him as a potential friend if he ended up choosing LSU — someone who could help him with the major transition from life in Ohio to a whole new existence in the Deep South. But Joe could not shake his thoughts about the worst-case scenario.
"I'm just worried," he told Moreau. "What if I come here and it ends up being a mistake?"
Some questions could not be answered in one sitting — or maybe at all.
Moreau introduced Joe to Tigerland that night. They ignored all the football talk for a while. But Moreau had already reached a conclusion that now seems almost unthinkable: "Joe is fully ready to not come here."
_____ 
As special assistant to Coach O since the fall of 2016, Derek Ponamsky had spent countless hours with an endless stream of recruits. He had never seen one as focused and businesslike as Joe Burrow.
Most recruits want to do photo shoots decked out in LSU gear. Not Joe.
Most want to watch hype videos. Not Joe.
Most want to be wowed by the glitz and glamour of a big-time program. Not Joe.
"Joe just wanted to talk ball," Ponamsky says. "We had to prove to him that we were going to put him in a position where he could be successful. That was the key."
With that in mind, the first item on the Saturday schedule — starting late in the morning — was critical.
The Burrow men — Joe, Jimmy, and Dan — joined Coach O, Steve Ensminger, and a few other LSU assistants for a film session. After brief greetings and small talk, they hunkered down in the offensive staff meeting room. Nobody could have foreseen that the session would last more than three hours, but nobody could have imagined the depth of football knowledge Joe would exhibit, either.
Not even his dad saw that coming. Jimmy Burrow was himself a football lifer. After playing defensive back at Nebraska in the mid-1970s, he spent a season with the Green Bay Packers and five years in the Canadian Football League. Then he started coaching. He would soon begin his 14th season as defensive coordinator at Ohio University. Jimmy might have taught Joe a little football along the way, but he had no idea how much his son had learned after leaving home for college.
The LSU staff came armed with video of every play Joe ran at Ohio State. The coaches would show a play. Joe would talk them through it. Then they would grill him to see how much Joe knew about what he was doing. Led by Ensminger, the coaches asked about overall schemes and concepts, about reads and routes, about pass protections and what to do against specific blitzes.
That was the discovery phase of the meeting — probing to see if Joe had what it took to run a high-level offense. Joe was precise, thorough, and matter-of-fact with his answers. He was calm and confident. He also enjoyed the back-and-forth with the coaches. Joe remembers feeling "great chemistry from the beginning" because he and the LSU staff shared so many views both on overall offensive philosophy and specific ways to handle certain situations.
The coaches could not have been more impressed. Dan and Jimmy Burrow were stunned. At one point, turning to each other and leaning in while the process continued, they had a whispered exchange. Dan: "Dad, did you know he could do all this?" Jimmy: "I really had no idea."
Midway through the meeting, Coach O excused himself so he could attend Tyler's graduation. First, though, he and Dan chatted briefly in the hallway, and Coach O made a remarkable comment underscoring the level of expertise Joe had already exhibited: "Well, it was very clear who the smartest person in that room is."
There was also a sales component to the meeting — the coaches talking up LSU's offensive personnel and selling Joe on the fact that the Tigers were truly committed to running a more open offense. They even showed certain plays from LSU's spring practices to illustrate the direction in which they were moving.
The overall sales pitch was clear: We won't just hand you the starting job, but you'll get every chance to earn it. We have great players and our offense is heading toward an extreme makeover. If you want to play in the best football conference in America — if you really want to compete for championships — this is the right place for you.
After the marathon meeting and lunch — Coach O by then back from graduation — the coaches gave the Burrows a tour of Tiger Stadium. They walked Joe and company across the field, just beaten-up grass, no white lines or painted eye of the tiger that time of year, and they stopped at midfield to take in the views. The stadium seats were empty. The powdery white of expansive clouds softened the blue sky. And there in the shadows stood the unproven quarterback Coach O hoped would one day help redefine his program: 6-foot-3, 215-pound, long-brown-hair-seriously-flowing Joe Burrow. He was casually dressed in a red T-shirt and faded charcoal-gray jeans, the shoestrings of his black high-top sneakers only loosely laced and not even all the way up — the whole look pretty much announcing to everyone else there: Yup, I'm a college kid, and you're not.
Joe was not outwardly moved by anything he was seeing. He did not say a whole lot. Mostly, he just stood there — half-empty bottle of Powerade in his right hand — and took it all in. As Dan would later put it: "Joe was just being quintessential Joe. Not really talking. Not really having much emotion. Not showing much."
Dan, meanwhile, thought about both the past and the future. Past: How childhood and high school Joe had always wanted to be the fourth Burrow to play at Nebraska — his other brother, Jamie, having played there as well — but never got an offer. How things had gone for Joe at Ohio State. How LSU quarterbacks had experienced so many struggles of their own in recent years — coaches and fans long yearning for one capable of beating Alabama and returning the program to the top of college football. Future: What if Joe could be that guy?
"Standing on the grass at Tiger Stadium … that was pretty cool for me," Dan says. "I was like, man, if Joe is the quarterback for the LSU Tigers in this place? Wow."  
_____
 Saturday dinner was held in a private room at Mike Anderson's Seafood Restaurant. It was mostly the same people as the night before: the Burrows and Orgerons joined by a small group of LSU staffers and spouses plus Foster Moreau.
A generous spread of appetizers included a variety of local favorites. But Coach O quickly realized something important was missing: crawfish.
"I see him looking around, and I'm like, Ooooh, he's not happy about something," Kelly Orgeron recalls. "I know him well enough. His body language — he was not happy."
The restaurant had recently stopped serving crawfish for the season. That was a problem. Coach O had been talking up Louisiana crawfish to the Burrows. Joe had eaten crawfish before, at a place in Ohio, but Coach O wanted to make sure he experienced real crawfish.
"Sorry," someone from the restaurant said.
That was not the end of it for Coach O.
The Burrows already knew about his drive and determination when football was involved — how his take-charge attitude and never-quit energy routinely lifted others and made things happen. Now — totally
different context but same can-do, will-do jump to action — they would witness Coach O taking the word
no
and transforming it into
yes
.
He went right to his cell phone and called Sharon Lewis, assistant athletic director in charge of football recruiting and alumni relations, affectionately known as The Boss Lady. Lewis put assistant Keava Soil on the case. And off she rushed — driving straight to Sammy's Grill on Highland Road. She picked up 15 pounds of crawfish, along with corn and potatoes, and made a special delivery to Mike Anderson's. The kitchen staff dumped the crawfish onto serving trays and offered them up as if ordered straight from the menu. Nobody at the table knew how the crawfish had magically appeared — only that Coach O had somehow made it happen.
"Joe could not have cared less if there was crawfish or not — he had already eaten five plates of appetizers," Moreau says now. "But everyone kept telling him he had to have crawfish. Like, you got to try it. It's so great."
Coach O, though, was thrilled about being able to deliver a little down-home piece of Louisiana for Joe and his family.
"He was in performance mode," Moreau says. "He wanted his quarterback!"
Unfortunately for the LSU contingent, Joe was still giving no indication that he had seen or heard enough to choose LSU. In fact, he was being intentional about that.
"Didn't want to show his hand," Jimmy says. "He wanted to just take it all in … process everything. Some of that was just the way Joe is — somewhat guarded. But I think that was probably more calculated than he normally would have been."
Coach O and Kelly certainly noticed the lack of positive feedback.
They also found it harder to get information out of Joe's parents than it had been the night before. Jimmy and Robin, an elementary school principal, were just as friendly as they had been throughout the visit. They were still perfectly polite and cordial. "Just tighter lipped," Kelly says. "You know, Ed and I have been through a lot of recruiting weekends together … and you just get a feeling. You can usually tell."
Walking out of Mike Anderson's, Coach O knew he needed to change the dynamics. So he pulled Joe aside for a conversation — just the two of them standing in the parking lot for a few minutes. Coach O did most of the talking.
He wanted Joe to believe in him personally and to believe in the way he was moving the program — specifically the direction in which the offense would be going. He also addressed what he knew was a major issue: Joe knowing he had only one more shot to pick the right place to play college football … and that included the need to fully believe he would actually be playing instead of just standing on the sideline. As Coach O now puts it: "He didn't want to go nowhere to be second-team."
The precise words spoken that night in the parking lot have been lost to the passage of time. But Coach O clearly remembers the conversation well enough to share a thorough account of how he all but promised Joe he would be the starting quarterback.
I can't promise you the job. But, Joe, you're going to be my starting quarterback.
I've watched you on tape. I heard you today. I'm totally confident you're going to be our starting quarterback.
Look at me, Joe, I got to win here. I'm throwing it all on the line. You're going to be our starting quarterback. I'm not guaranteeing it. You're going to have to earn it. But if the head coach thinks you ought to be the starting quarterback, guess who is going to be the starting quarterback?
Joe says that is "pretty verbatim" the way he remembers it, too.
"I wanted to let him know that I knew that things would work out," Coach O says. "I wanted to almost guarantee him I knew he had better skills than the quarterbacks we had here."
It was the best Joe had felt all weekend — the best he had felt in a long time about his overall prospects as a big-time college quarterback. Prior to this conversation — and after three years as a backup at Ohio State — the uncertainty about actually getting to play was still one of Joe's biggest reservations about choosing LSU. But he had also started to question whether he was even up to the task of leading the offense for a top program.
"I was still battling with myself, asking myself if I could really do it," Joe says. "Coach O reassured me that I could and that he wouldn't bring me in here if I wasn't going to be the guy."
"It felt like he was going all-in on me. And I hadn't felt something like that from a coach in a long time. I hadn't felt that a coach really believed in me like that in all my years in college. That really made me feel very good about my abilities — and about my ability to come in and be the guy at LSU."
Nobody could have predicted the clout that conversation would later carry in helping to shape the future of LSU football.
"It was the start of trust," Coach O says. "It may have been the most important conversation I've ever had in my career."
Of course, Joe being Joe — self-described owner of "a pretty good poker face" — he gave no indication while standing in that parking lot that Coach O was even making any progress with him.
Driving home from dinner, Kelly and Ed Orgeron tried to evaluate where Joe stood on his decision, and they quickly agreed.
"He's not coming," Kelly said.
"You're right," Coach O said.
But he also reminded her of something he had learned long before: "We have to go through the process. You know, there's some that …"
"He's not coming," Kelly repeated.
"Yeah, I'm with you," Coach O said. "I don't think he is, either. But if he doesn't, he's making a big mistake."
_____
 For Coach O, identifying someone who might serve as his "champion" or key influencer on a prospect is an integral part of recruiting. Derek Ponamsky has heard him say it over and over: Find the champion. Find the champion.
Sometimes the champion is a parent, another relative, or a best friend. Sometimes the champion is a high school coach, a community member with strong ties to the family, or a trusted adviser from the summer football circuit. It could really be anyone close to the recruit.
"Well, in this instance the absolute decision-maker was Joe," Ponamsky says. "There was nobody else that was involved in the decision at all. It was going to be what Joe wanted. Coach had identified that quickly."
Equally clear, though, was the fact that Dan Burrow could potentially play some sort of role as an internal champion. Jimmy and Robin were neutral and level-headed sounding boards for Joe. They trusted his ability to navigate the process: Whatever Joe thinks is best for him, we will support his decision. Dan was the one who had already been a fan of Coach O and the Tigers. He was the one who lived straight down I-10 and would love driving over from Houston to hang out with his brother and watch him play in Death Valley.
The final group get-together of the weekend was Sunday breakfast at the Cook Hotel on campus. After eating, Coach O cleared the room of all staffers other than his assistant coaches, so it was just them and the Burrows. Wanting to know where things stood, Coach O asked each of the Burrows to take a turn and share what they were thinking. The Burrows might as well have been reading from a script. You really have a great group of coaches. Fantastic program overall. Special people. Special place. A lot of good things happening. And thank you — our thanks to everyone — for having us here. You made it a great weekend.
It was all positive stuff. As Dan now puts it, though, it was also one big collection of "straddling the fence" and allowing no real insight into where Joe stood with his decision. Had the Burrows been forthcoming, they would have said this: Prior to the weekend, Joe was definitely leaning toward Cincinnati — would have signed with the Bearcats if forced to choose right then — just because he knew the coaching staff and would be so close to home. The one nagging negative was that Cincinnati, although strong in the American Athletic Conference, would never be in position to compete for a national championship. Seeing and hearing and feeling everything they did while visiting Baton Rouge, the door had definitely opened for LSU. As Jimmy says: "It just became obvious that it was going to be a way tougher decision for Joe than he thought it would be."
As the Burrows were saying their goodbyes to everyone, Coach O said something to Dan that surprised him: "Hey, did you get my phone number?" Seriously? Dan thought. Like, dude, you're the head coach of LSU! No, didn't get your number. Didn't really think I'd ever be getting it. Dan happily put Coach O's number in his phone.
Then the Burrows were off.
The LSU staff took a few minutes to assess how things had gone. Bill Busch was alone in holding out hope. Coach O's take was simple: "Guys, he's not coming."
As he now explains: "Usually, when a player visits, if he's going to come, he's going to show you some signs."
_____
Dan dropped his brother and parents at the Baton Rouge airport for their return to Ohio. Just after leaving the airport for his drive back to Houston – not even on I-10 yet – he got a call from Coach O. Already? Coach O wanted to stay in contact. He wanted to keep fostering the relationship with Dan. Also, he wanted to know if there was anything more Dan could share about Joe's thinking. There was not. If nothing else, though, Coach O knew he had an ally on the other end of the call, a champion who wanted to see his brother end up at LSU.
At 3:43 that afternoon — relaxing back at home — Dan got a text from Coach O: "Stay on him Dan we need him."
Dan's reply was short and overpopulated with exclamation points: "Yes sir, Coach!!!!"
After a brief back-and-forth, Dan ended by spelling out how he planned to proceed with Joe: "I'm gonna give him some time and have a conversation with him about how he can accomplish everything he's ever wanted in Baton Rouge. It's a special place and he can do special things there."
_____
 Robin Burrow left Louisiana with positive feelings about the man who wanted to watch over her son and lead him for the next two years.
"How can you not love Coach O?" she says. "He's just so passionate about LSU football. He loves the state of Louisiana. So, as we left that weekend, it's hard to not be really sold on a place when the head coach loves it so much."
Robin saw Coach O as genuine and sincere. He was an open book: "You just feel like you can trust him from the get-go. Because there's not any smoke and mirrors. What you see is what you get."
Plus, the whole LSU football program seemed to maintain a natural emphasis on people and personal relationships — the human component too often lost or at least minimized in the high-pressure environment of big-time collegiate sports. After one weekend in Baton Rouge, Robin had no doubt about the culture Coach O had created.
"We had done other recruiting trips, obviously, when Joe was in high school," Robin says. "And not every place was like that. Other places had more of a business kind of feel — not such a passionate family kind of feel."
Jimmy felt the same way. But none of that really mattered now. Both parents knew well enough to let their son make up his own mind: Whatever you decide, Joe, we will support it.
Joe wanted to decide within a week. He also wanted to be left alone for a while.
"I need a couple of days to just think about it," Joe told his dad. "I'm not going to talk to coaches. I'm not going to talk to really anybody."
Jimmy initially figured he and Robin would not be included in that. They would still be in touch with Joe. He was wrong. Joe kept his parents out of the loop for a couple of days, too.
"I knew everything was weighing heavy on his mind," Jimmy says. "It was the first major decision in his life. Going to Ohio State was an easy decision. But to pull up roots and to leave your friends and basically leave your home and your family was a hard decision for him."
When Coach O could not get straight to Joe, he went to Dan. Phone calls. Texts. Whatever he could do to stay connected. Whatever he could do to get updates — if any existed — and to encourage Dan to stay on the case.
One text exchange started at 6:30 in the morning.
Coach O: "Geaux Tigers"
Dan: "Yes sir!!!!"
Coach O: "National Champs with Joe"
Dan: "I know coach, y'all can do special things together. I will remind him of that!!!"
Coach O: "SEC"
Dan: "It doesn't get any bigger"
For a couple of days, though, Dan fell into a pattern of wishy-washy words that Coach O really didn't want to hear.
Coach, I know LSU is the best place for Joe. But it's his decision. I don't want to be the guy telling his little brother what to do.
"Blah … blah … blah."
Or at least Coach O was hearing it that way. He finally told Dan he needed to step up and be more direct with Joe. He needed to tell Joe that LSU was the only choice if he really wanted to compete at the highest level. He needed to tell Joe how much he believed in Coach O and in everything LSU was doing to elevate its program.
"This is your brother," Coach O said. "You love him to death. You don't want him to make a mistake, right?"
"No," Dan said. "Of course not."
"Dan! Where is the best place for him to go?"
"LSU."
"Well, you need to call him! Dan, we can win a national championship!"
"I know that. But Coach …"
"Dan, he's going to listen to you."
Dan wiggled and waffled.
Coach O went another route: "All right, Dan, let him go to Cincinnati. That's what you want? Come on, man!" He then employed some colorful language to underscore his point. But the cleansed version stands strong enough on its own: "Dan, you got to man up! You got to man up and call him!"
Dan had a lot to think about after that conversation. He mulled over what he might say to Joe. He went to his computer and began working on a list of points in support of LSU. Ultimately, although violating the limits of his comfort zone — still hesitant about interfering too much — Dan made the call Coach O wanted. He talked to Joe about a number of items he had listed. But he highlighted something Joe had repeatedly expressed: his desire to play at the highest level.
"What I'm hearing from you, you want to play at the highest level and you want to win football games," Dan said. "Look, Joe, if that's not true, if that's not accurate, that's fine. But if that is true, there's only one place for you. I mean, choosing between Cincinnati and LSU based on that alone? It's a no-brainer."
Dan and Joe went back and forth about other points.
Joe did not say anything definitive about what his decision would be or when he would make it. But Dan could tell that he was fully engaged — analyzing all the pros and cons as best he could: "The wheels were turning."
_____
Joe thought about everything Coach O had told him. He thought about the considerable talent already in place at LSU. He envisioned himself leading LSU's offense out of the old-fashioned past into a wide-open future. He pondered the possibility of playing for championships. As Joe would later wrap all of that into a summary explanation of his decision: "Coach O sold me on a vision."
Late in the afternoon of Friday, May 18, 2018 — exactly a week after landing in Baton Rouge for his visit — Joe called Coach O to give him the news. His decision was made.
"I'm coming to LSU," Joe said. "I'm going to be an LSU Tiger."
Coach O was shocked … thrilled … fired up.
He always enjoyed the rush of getting a player he really wanted. This one felt even better than usual. This one was a surprise — and the guy he was getting just might be the one he needed most.
Joe told Coach O he believed in him — believed in all he had seen and heard during his visit to Baton Rouge.
Coach O expressed his joy and congratulated Joe on making a great decision. He thanked Joe for trusting him and said they would win a lot of football games together. Then he shifted to their shared goal and his never-ending role as master motivator: "Let's go to work!"
The 2018 season opener was only a few months away: LSU against historical powerhouse Miami on Sept. 2 in Arlington, Texas. It was a made-for-TV special. The big Sunday night showdown would be played in AT&T Stadium, home of the NFL's Dallas Cowboys, with ABC hyping it to the heavens and broadcasting to a national audience.
Coach O made a point of reminding Joe about that game: "Get ready for Miami!"
The call did not last long. But Coach O heard everything he needed to hear.
He was ecstatic. He shared the great news with his staff.
Then he texted Dan: "You are the MVP."
Sticking to personal protocol, Dan unleashed a generous collection of exclamation points in his response: "Baton Rouge here we come!! I'm excited for joe…..gonna be great!!! GEAUX TIGERS!!!"
At 10:29 that night, Joe sent a tweet to publicly announce his decision: "Excited to be playing in Death Valley next season. Ready to get to work."
Early the next morning — at 5:51 — Coach O sent a tweet of his own. It was his standard line for whenever a new player committed to the program: "Hold That Tiger!"
Joe officially became part of the team by signing the necessary paperwork on Sunday, May 20. It was the same day Billy Cannon, 80 years old and the biggest star in LSU football history, died at his farm home outside of St. Francisville.
Coming Tuesday: Part II.
Success! An email has been sent with a link to confirm list signup.
Error! There was an error processing your request.