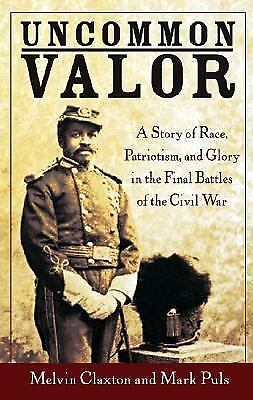 About this product
Product Information
"With the air of intimacy that only comes from intensive research, Uncommon Valor vividly shows us the contributions made by escaped slaves, ex-slaves, and freemen to the Union cause."–Gene Smith, author of Lee and Grant Christian Fleetwood had mixed feelings about America, and America had mixed feelings about him. As a free twenty-three-year-old black man living in Baltimore, with the Civil War raging, he understood well all that was worrisome and all that was inspiring in his war-torn country. A few days after Gettysburg, as his hometown was flooded with horribly wounded soldiers, Fleetwood made a momentous and patriotic decision. He enlisted. Uncommon Valor tells the powerful story of how Sergeant Fleetwood and his fellow "colored" troops overcame oppression, suspicion, derision, and a ceaseless torrent of Confederate gunfire to overrun a heavily fortified rebel position against impossible odds. For outstanding bravery and devotion beyond the call of duty, Fleetwood and thirteen of his comrades were awarded the Congressional Medal of Honor. Based on personal diaries, letters, and other firsthand accounts, this riveting tale takes you deep into the heat of battle and beyond, as these heroic soldiers are forced to fight two wars at once–one against the enemy, the other against their own white commanders and fellow troops. The Civil War produced hundreds of heroes and thousands of thrilling accounts of their brave and glorious deeds. None is more moving, compelling, or inspiring than Uncommon Valor.
Product Identifiers
Publisher

Wiley & Sons, Incorporated, John

ISBN-10

0471468231

ISBN-13

9780471468233

eBay Product ID (ePID)

45956936
Product Key Features
Format

Book, Hardcover

Language

English
Dimensions
Weight

12.6 Oz

Width

5.7in.

Height

0.9in.

Length

8.6in.
Additional Product Features
Dewey Edition

22

Table of Content

Prologue: A Debate over Civil Rights. One: The Bell Tolls: A Call for Black Troops. Two: Christian Fleetwood Enlists. Three: The First Mission. Four: Ready and Willing: The Cincinnati Brigade. Five: Hunting Guerrillas and Bushwhackers in North Carolina. Six: Early Skirmishes: Raids on Richmond. Seven: Avenging

an Ambush. Eight: To the Front: Storming Petersburg. Nine: The Fog of War: The Petersburg Mine Explosion. Ten: The Price of Honor: Heroics at New Market Heights. Epilogue: The War Ends. Bibliography. Index.

Publication Year

20050000

Dewey Decimal

973.7/415/0922 B

Copyright Date

2006

Author

Melvin Claxton, Mark Puls

Number of Pages

240 Pages

Lc Classification Number

E540.N3c58 2006

Publication Date

2005-12-16

Reviews

The terrible, but ultimately victorious, 1864 assault on New Market Heights, a vital outpost in the defense of Richmond, VA, forms the centerpiece of Claxton and Puls's Civil War history, which highlights the bravery and sacrifice of African-American troops. The battle hastened the end of the war and retired most of the prejudices that initially kept black troops out of combat. It also earned the book's chief protagonist, Christian Fleetwood, a Baltimore resident who enlisted while slavery was still legal in Maryland, a medal of honor for his bravery. Claxton and Puls's account suffers from its paucity of primary black voices, and it's too short to be definitive. The authors' decision to focus on only a few months of the war hampers narrative tension, though it does illustrate the fact that soldiering is nine parts tedium for every part horror. And the authors, both investigative reporters with the Detroit News , do capture the important themes: how blacks were long denied the fight against the South, how their courage was ever in question and how, after serving their country honorably, full citizenship in the postwar nation was not their reward. (Jan.) ( Publishers Weekly , November 14, 2005)

Lccn

2005-006842
This item doesn't belong on this page.
Thanks, we'll look into this.