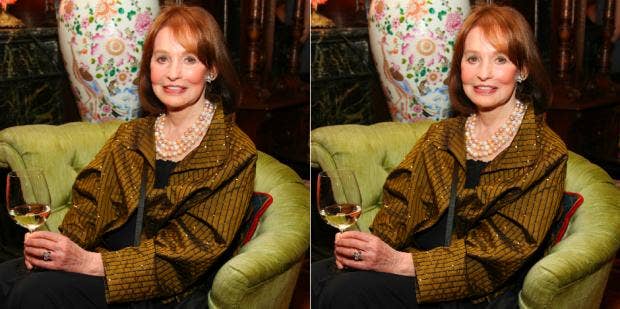 Wyatt Cooper was Vanderbilt's 4th husband and father to Anderson Cooper and his brother Carter.
The fashion world has lost an icon with the death of Gloria Vanderbilt at the age of 95 this week. She was diagnosed with cancer earlier this month.
While Vanderbilt is best known these days as the mother of journalist Anderson Cooper, her life before her son's rise to fame was storied and astonishing. As a toddler, she was the subject of a custody battle between her mother and her aunt over who was fit to raise her and control the multi-million dollar trust fund left to her by her father Reginald Vanderbilt, the railroad scion. In her young adulthood she was known as a model and actress, before eventually moving her creative work into the visual arts. In the 1980s, she became ionic as the name behind a line of designer jeans and other clothing.
Vanderbilt had a love life as eclectic as the rest of her life, marrying four times and being romantically linked other famous men, such as Marlon Brando and Frank Sinatra.
Her longest marriage was to her fourth husband Wyatt Cooper, who was the father of Anderson and his brother Carter. Who is Gloria Vanderbilt's husband? Read on to learn more.
1. Early loves
After a tumultuous childhood where she lost her father as an infant then found herself the subject of court cases wherein relatives battled over the right to raise her — and mange her fortune — Vanderbilt studied at Greenvale School on Long Island, Miss Porter's School in Connecticut and then the Wheeler School in Providence, Rhode Island. She also developed her artistic talent at the Art Students League in New York City and honed her acting skills at the Neighborhood Playhouse before moving to Hollywood. In 1941, she married Pat DiCicco, an agent for actors and an alleged mobster, who she said abused her during their marriage. They divorced in 1945 with no children. Weeks later, she married Leopold Stokowski, a conductor who was best known as the maestro in the movie Fantasia. They had two children together — Leopold and Christopher – before divorcing in 1955. In in 1956, she married film director Sindey Lumet. They had no children and divorced in 1963. Her final marriage was to author Wyatt Cooper, with whom she had her sons Anderson and Carter. They remained married until his death in 1978.
Vanderbilt died this week 
2. Wyatt
Wyatt Cooper hailed from Mississippi but migrated to California to study acting at UCLA. He moved to New York and did work as a stage actor and began writing stories and plays. He returned to California where he wrote and acted in films. In 1967, He gained some acclaim for writing a profile of his neighbor and friend Dorothy Parker after her death. He eventually moved back to New York and worked as a magazine writer. He and Vanderbilt married in 1963 and were a staple of the society press at the time. Together, they had son Carter in 1965 and Anderson in 1967. In 1978, Wyatt died in New York City. He had had prior heart issues and died as a result of complications due to cardiac surgery. He was 50 years old. Vanderbilt never married again.
Wyatt and Vanderbilt were married until his death. 
RELATED: How Did Gloria Vanderbilt Die? New Details On The Death Of Anderson Cooper's Mother At 95
3. Memoir
Although Wyatt had left his family home for college, he never
forgot the sense of family and belonging they instilled in him.
The Heavy reports
that he went on to write a memoir about his family and his life growing up called 
Families: A Memoir and a Celebration
 . In a review of the book at the time. Kirkus said: "Married to artist Gloria Vanderbilt and the very caring and conscientious father of two young sons, Cooper rues 'today's claustrophobic units of two, three, or four persons who seem to have no outside kin and no antecedents,' recalling how even the drunken uncles, bullying cousins and not-quite-right-in-the-head aunts among his relatives instilled in him a feeling for community, a sure knowledge that 'roots are a precious thing.'"
Wyatt Copper was a prolific writer.
4. Carter's death
The loss of a parent as a child is never easy and it affected both Anderson and Carter Copper. Carter struggled with mental health in the days leading to his death. His brother Anderson said that he had always been sensitive and thoughtful. Following his graduation from Princeton in 1988, Carter and his girlfriend had split up and he had a tough time with the break up. Anderson recalls that Carter had been in therapy and had been toying with the idea of moving back in with their mother. He was at Vanderbilt's New York apartment on the night of July 22, 1988. He woke in the night and went into his mother's room, disoriented and unable to answer her questions. She followed him to the balcony where she tried to stop him from sitting on the ledge, trying to coax him indoors. But her efforts were in vain and Carter threw himself off the balcony, ending his own life.
Years later an author named Jean Stein would also commit suicide by jumping from the same balcony. She had bought the apartment from Vanderbilt in 1988, following Carter's death.
Carter Cooper died in 1988.
RELATED: Anderson Cooper & Boyfriend Benjamin Maisani Party At Mardi Gras
5. Legacy
In the years following the loss of his father and his brother, Anderson Cooper and Gloria Vanderbilt became exceptionally close. In 2016, he produced a documentary about his mother's life called Nothing Left Unsaid, which premiered at Sundance. Of his father, Anderson told CNN he wished he had had him in his life to ask him for advice. He said: "I'd ask him what he thinks of me? Is he proud of me? Does he approve of the man that I've become? I'd tell him about the choices I've had to make, the fears and difficulties I've struggled to overcome. What would he have done if he were me?"
Cooper and his mother were very close.
Gloria Vanderbilt was 95 at the time of her death. Her son Anderson Cooper said she passed away peacefully at home.
Sign Up for the YourTango Newsletter
Let's make this a regular thing!
Rebekah Kuschmider has been writing about celebrities, pop culture, entertainment, and politics since 2010. Her work has been seen at Ravishly, Babble, Scary Mommy, The Mid, Redbook online, and The Broad Side. She is the creator of the blog Stay at Home Pundit and she is a cohost of the weekly podcast The More Perfect Union.